Lesruba Designs AFFILIATE PROGRAM
Start earning extra cash now with the Cafepress.com Affiliate Program! It's FREE and EASY to join!

The Cafepress.com Affiliate Program is conducted in partnership with Commission Junction - www.cj.com

To Learn More Click Here!

To go directly to the Sign-up Page Click Here!

If you already have a Commission Junction account, Click here.
_______________________
When you join the Cafepress Affiliate Program thru Commission Junction, you will be assigned a PID number. WARNING: Your PID # is NOT your ACCOUNT #. In your CJ account settings when you add a new website to your profile, each website is issued a PID. This is the # you will use to generate self-created links.

You may use any of the banners below, just substitute the "PID" with your assigned "PID" number and you're good to go. [ EXAMPLE: if your PID is 123456, the link would look like this after you replaced PID with 123456: http://www.qksrv.net/click-123456-10463747?URL=http://www.cafepress.com/lesrubadesigns"]
_____________________
Lesruba Designs AFFILIATE BANNERS & TEXT LINKS:
TEXT LINK
Lesruba Designs T-shirts & Gifts
Happy illustration t-shirts, gifts & home decor for infants, kids and grown-ups. Ballerina gifts & t-shirts, New Baby Gifts, T-shirts & gifts for boys and girls, holiday t-shirts and keepsakes, kids clocks, children's wall art, cat t-shirts, dog t-shirts, greeting cards and so much more!

468x60 banner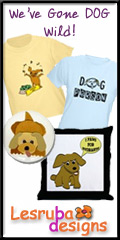 120x240 Dog banner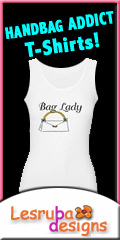 120x240 HAndbag banner
129x600 holiday skyscraper banner

120x90 banner

120x60 banner
468x60 christmas gifts banner
120x240 Mistletoe Hats banner

468x60 dog banner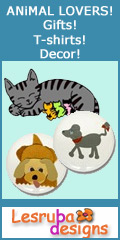 120x240 pets banner

125x125 spring banner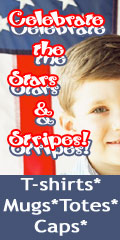 120x240 4th of July banner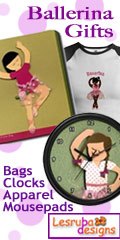 120x240 ballerina banner