Back-to-School Gifts, T-shirts, School Clothes and Accessories
Shop our Back-to-School Headquarters for fun school t-shirts, school sweatshirts, school bags, ties, notebooks, mugs and elementary school gifts for boys and girls and teachers off to school in the fall. We have back-to-school t-shirts, sweatshirts, back to school notebooks, magnets, buttons and school bags for children gearing up for class. Stock up for the new school year and prepare them to go to the head of the class. Shop kindergarten gifts for the smallest young ones heading to school.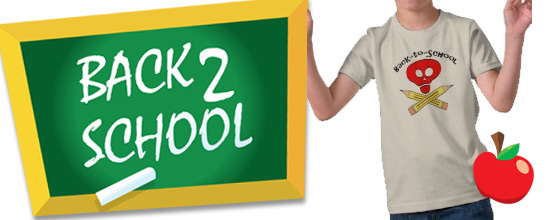 Find the cutest and coolest back-to-school t-shirts, school supplies, notebooks, watches, book bags and school clothes for students and teachers.
Browse our back-to-school merchandise by design – we have lots of cute school designs on tons of fun back to school gifts -our Back-2-School Collection includes Teacher's Pet, 1st grader gifts, 2nd grader gifts and much more! Gifts for Elementary grade school boys and girls, preschool tshirts and gifts and kindergartener t-shirts, buttons and clothes for little ones. Cute kindergarten t-shirts, book bags and notebooks.
These back-to-school supplies for kindergarteners feature art of frog with backpack, pencils and an apple for the teacher. Kindergarten rocks! Funny back-to-school t-shirts, clothes and gifts with skull and pencils. Cute 1st grader t-shirts and school supplies for boys and girls heading into 1st grade. Back-to-school gifts.