It's a holly, jolly Christmas and it's time to deck the halls and be merry and bright! Find all sorts of Merry Christmas t-shirts, Holiday gifts and decorations for parties and the entire holiday season. We have fun stocking stuffers like snowman and reindeer jewelry. Get something for everyone on your Christmas list. Shop Christmas apparel, sweats, plates, mugs, puzzles and jewelry. We have Christmas stockings and Christmas Tree Skirts for your home too.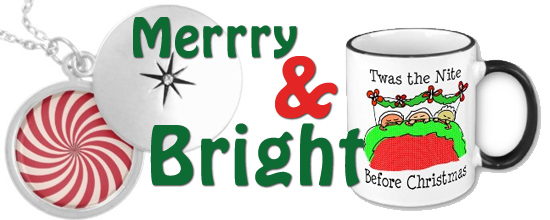 Christmas t-shirts, holiday t-shirts, reindeer t-shirts, snowman t-shirts, holiday apparel, clothing and Christmas gifts for friends and family! Our merry Christmas illustrations can be found on Christmas stockings, iphone skins, baby blankets, thermos', mugs, buttons, magnets and ornaments. Find unique Christmas gifts and holiday decorations, Christmas presents, stocking stuffers and more from Lesruba Designs Christmas Collection.
Christmas T-shirts and Apparel
Christmas Necklaces
Baby's First Christmas Clothes
Christmas Shower Curtains
Christmas Mugs
Christmas Ornaments
Christmas Ties
Christmas Stuffed Animals and Plush
Christmas Home Decor
Christmas Gifts for Her
Christmas Gifts for Him
SHOP CHRISTMAS DESIGNS

Christmas Necklaces

Christmas necklaces are great gifts and holiday accessories for everyone.


Christmas Ornaments

merry Christmas tree ornaments


Baby's 1st Christmas Gifts

cute 1st Christmas clothes and presents for infants.


Christmas Dog Lover Gifts –

shop cute holiday t-shirts, gifts, cards and stocking stuffers with Christmas dog designs for dog lovers on your Christmas list.


Christmas Presents –

These general themed Christmas t-shirts and presents are great gifts for anyone on your holiday list.


Christmas Tree T-shirts & Gifts –

Find holiday cards, stamps, shirts and gifts with Christmas Tree designs and illustrations.


Italia Buon Natale Gifts

Paris Eiffel Tower Joyeux Noel Gifts

New York City Christmas Gifts
Reindeer gifts and apparel
3 Wisemen Gifts

Funny anti-holiday Bah Humbug T-shirtss

Christmas Apparel and Gifts

Candy Cane Gifts

Christmas Cat Gifts
Christmas apparel for parties and the entire holiday season. Office holiday sweatshirts and Christmas clothes for everyone on your list. Fun Merry Christmas T-shirts, Season's Greetings T-shirts and Cute Christmas shirts for babies, kids and adults this holiday season! Find cute holiday gear, gifts, presents and stocking stuffers.