Independence day is the perfect occasion to show off your American spirit. Wear these 4th of July t shirts and sweatshirts to your July 4th picnic, fireworks show or parade. We have patriotic shirts for all ages. Cute red, white and blue fourth of July clothing and Independence Day Gifts for infants, kids and adults. Shop patriotic t-shirts, American flag t-shirts and USA apparel, clothing and gear for everyone. American pride t-shirts, stars n' stripes apparel and more. These patriotic products feature the American Flag, Red White and Blue, Stars and Stripes.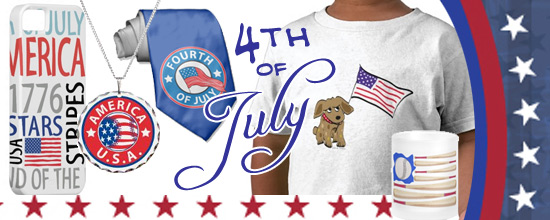 Fourth of July Merchandise
Independence Day Quotes
"We hold these truths to be self-evident, that all men are created equal, that they are endowed by their Creator with certain unalienable Rights, that among these are Life, Liberty and the pursuit of Happiness." ~ Declaration of Independence
"Where liberty is, there is my country." ~ Benjamin Franklin
"Democracy is the government of the people, by the people, for the people." ~ Abraham Lincoln
"Liberty is the great parent of science and of virtue; and a nation will be great in both always in proportion as it is free." ~ Thomas Jefferson
July 4 patriotic designs on 4th of July t-shirts, apparel, bags and gifts for the entire family this Independence Day. Plus kids and animals holding the American Flag. No matter where you spend your july 4th weekend, these star-spangled t-shirts, 4th of July apparel and Independence Day Party Invitations and Party Planners, plus other Patriotic USA gifts will have you accessorized for a red, white and blue time!