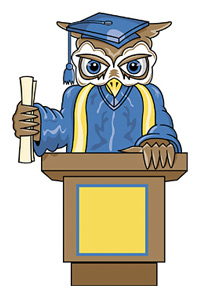 It's that time of year again when seniors all over the world will put on a cap and gown and participate in a graduation ceremony to mark their matriculation from student to graduate. Graduation ceremonies can be long, as friends and family sit through the parade of every students name being called and handed a diploma. Which is in part why the graduation speech becomes the focus for many attendees and students. Who will be giving it and speculation over whether it will be a good or bad is much anticipated beforehand.

View our Graduation Gifts
What Makes a Good Graduation Speech
A good graduation speech will live on in infamy in the minds of the grads and any who see it. A bad speech will live on too, just not with such shiny praise. Graduation speeches can be funny, serious, somber or preachy, but the ultimate goal of the graduation speech is to uplift, motivate and inspire those graduating. Because while graduating can be exciting, it can also be a bit scary at the thought of what will happen next.
No graduation speech garners as much attention, on youtube or elsewhere, as those given by famous people. Here are some of the more noteworthy graduation speeches given by celebrities over the years.
Steve Jobs Graduation Speech
Stanford University, 2005
In 2005, Pixar and Apple co-founder, Steve Jobs, delivered the commencement address at Stanford University in California. He opened with, "Truth be told, I never graduated from college and this is the closest I've ever gotten to a college graduation." Steve Jobs told 3 stories about his life during this commencement address.
The first story was about connecting the dots. "You can't connect the dots looking forward, you can only connect them looking backwards." But "of course it was impossible to connect the dots looking forward when I was in college. But it was very, very clear looking backwards ten years later. You have to trust in something – Your gut, destiny, life, karma, whatever."
His second story was about love and loss. In this story he spoke about getting fired from the company he started, "It turned out that getting fired from Apple was the best thing that could have happened to me. The heaviness of being successful was replaced by the lightness of being a beginner again."
"Sometimes life is gonna hit you in the head with a brick. Dont lose faith."
"You've got to find what you love."
"The only way to do great work is to love what you do."
"Keep looking. Don't settle."
His third story was about death. When he was 17 he read a quote that went something like this: "If you live each day as if it were your last, someday you most certainly will be right." After reading that, he looked in the mirror every day and asked himself, "if today were my last day would I want to do what I'm about to do today?"
"Remembering that I'll be dead soon is the most important tool I've ever encountered to help me make the big choices in life. "
Steve Jobs' closing message to the Class of 2005 was to "Stay hungry. Stay Foolish."
Oprah Winfrey Graduation Speech
Stanford University, 2008
Another popular celebrity graduation speech was given by Oprah Winfrey to the Stanford Class of 2008. Oprah delivered the commencement address to the class where her goddaughter, Gayle King's daughter, was a graduate. Oprah cited a quote from BB King, "The beautiful thing about learning is that nobody can take that away from you."
She told the graduates that, "Your education isn't ending here. It's really only just begun. The world has so many lessons to teach you. The secret I've learned to getting ahead is being open to the lessons, lessons from the grandest university of all, that is, the universe itself. It's being able to walk through life eager and open to self-improvement and that which is going to best help you evolve. Cause that's really why we're here, to evolve as human beings."
ELLEN DEGENERES Graduation Speech
Tulane University, 2009
In 2009, Ellen DeGeneres delivered perhaps one of the funniest graduation speeches ever heard to the seniors at Tulane University in New Orleans. Ellen's opening line was, "Thank you to all the graduating class of 2009, I realize most of you are hungover and have splitting headaches and haven't slept since Fat Tuesday but you can't graduate until I finish, so listen up!"
She went on to say,
"I didn't go to college at all…any college. and I'm not saying you wasted your time or money …. but look at me I'm a huge celebrity. "
"Usually when you wear a robe at 10 in the morning it means you've given up."
"My point is that by the time I was your age I thought I knew who I was, but I had no idea. Like for example, when I was your age, I was dating men. So, what I'm saying is, when you're older, most of you will be gay. (pause) Is anybody writing this stuff down?"
Ellen's closing message to Tulane's graduates was a New Orleans metaphor they could all appreciate, "Life is like a Mardi Gras. but instead of showing people your boobs, show them your brain. And if they like what they see, you'll have more beads than you'll know what to do with…..and you'll be drunk…. most of the time."
CONAN O'BRIEN Graduation Speech
Harvard University, 2000
Another funny gradation speech grad is late night talk show host, Conan O'Brien. Conan gave the graduation speech at Harvard, his alma matter, in 2000 and at Darmouth in 2011. He told the Harvard Class of 2000, "Last time I was invited to Harvard it cost me $110,000. So I was reluctant to show up. "
He humorously stated, "Students, Class of 2000, 15 years ago I sat where you sit now.and I thought exactly what you are now thinking – what's going to happen to me. will I find my place in the world. Am I really graduating a virgin."
STEPHEN COLBERT Graduation Speech
Northwestern University, 2011
And speaking of funny, Stephen Colbert delivered the commencement address to Northwestern University graduates in 2011. He said, "You are what some have called the greatest generation. Not many, but some. So far just me. And I'm counting on you to not make me look like an idiot for saying it. So be great…no pressure."
Lisa Kudrow Graduation Speech
Vassar College, 2010
"The 20s are that time in your life when you're really getting acquainted to your own adult self and seeing how you respond to self doubt when there's so much seemingly at stake. So let me reassure you, it's not supposed to be easy, but it doesn't have to be torture. You're supposed to have moments of uncertainty about which path to take because the 20s are full of crossroads."
"btw, I think its always good to listen to that inner voice….if it doesnt lead to a crime."
Tom Hanks Graduation Speech
Yale College, 2011
Tom Hanks opened his speech with a series of comments about social media, "Today's your day. Please DO NOT turn off your electronic devices. Leave your iphones, your ipads, your sidekicks, your droids, your Blackberry's powered up, recording, photographing, texting out all that emerges from this stage over the next few minutes. You know later on today you can compare your tweets and your facebook comments with those of others to figure out if anything memorable went down. Hey, ya know what? Tweet that last sentence I just said."
"Take this speech, set it to some music, and maybe insert some crazy, kooky graphics, star in that video yourself, post it on the web and if it becomes a viral sensation you'll be equal to any cat playing with a paper bag, any set of twin toddlers talking jibberish to each other, as popular as that cute girl who sings about Fridays."
"The future with a capital "F" now rests with you. Each of you is shining hope for our nation and the world."
"Graduation day is a proper occasion to put a toe in the global waters and I think the mercury shows that things are much as they always have been."
Katie Couric Graduation Speech
Boston University, 2011
"As I look out on all your faces – young, wrinkle-free (damn you), full of accomplishment, relief, hope and fear, some bright-eyed about the future, some bleary-eyed from too many shots at T's pub last night (and you know who you are), I have to be honest…I am really jealous."
"I am also so honored to be speaking at a University with so many illustrious graduates. From Martin Luther King, Jr , which shows this school's progressive roots and its commitment to social justice to Howard Stern – and I'm not sure exactly what that shows. And I am very happy, very, very happy to be speaking today at BU instead of my safety school, BC. I am just kidding Boston College, please do not send me obscene tweets! Please."
"I heard if you try all 50 beers on tap at the BU pub you get knighted and you receive a personalized mug. Done and Done. Just call me Lady Katy. And by the way, nobody told me it was supposed to take all four years, I did it at brunch, you guys are lightweights."
"Today is just the first of many graduations in your life. Your college days may be over, but the learning and preparation continues.
"I'm sure this is not a newsflash – it's tough out there. A lousy job market, intense global competition can make you feel like my life mylanta. But all the bad economic news in the world ignores one irrefutable truth, you are not a number or a statistic. You are as the line from the poem invictus goes, 'the master of your fate and the captain of your soul. '"
"Don't take no for an answer, that includes the voice in your own head."
"You will screw up and you will be let down. It's how you handle that adversity that will define who you are."
"As Biz Stone, the founder of Twitter wrote, in excatly 140 characters, "Think about what is valuable before thinking about what is profitable."
As the writer Annie Dillard put it, "How we live our days is of course how we live our lives. Enough simple acts of kindness add up to a life well-lived."
"Find the joy and when you feel it let it wash over you. Take a moment to really appreciate it, to appreciate that moment. I's been said that feeling gratitude and not expressing it is like wrapping a present and not giving it."
"Be grateful for the people in your life, for waking up and feeling good and pain-free and for the stretch of road ahead that is so full of possibilities. And even when you encounter bumps, keep going and don't look back. Hey, that's why the windshield is so big and the rearview mirror is so small. And God, have fun, it is going to be a fantastic ride. Congratulations everyone and good luck."