Yippie today August 10 is National s'mores day! Perhaps everyone's all-time favorite summer treat s'mores remind most people of summer, warm weather, camping, relaxation and fun times with friends and family.
S'mores can be traced to originating from the Girl Scouts. A woman by the name of Loretta Scott Crew is credited with creating this sensational combination around the campfire for the Girl Scouts. There has yet to be another sign of earlier use and or creation of this marschmellow delicacy.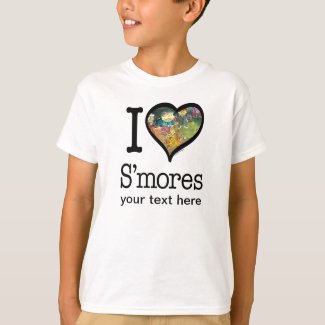 Smores Lover T-shirt
The traditional s'more consists of warmly roasted marshmellows placed on a layer of chocolate smushed or sandwiched between two graham crackers. The hot roasted marshmellows melt the chocolate and what is created is nothing short of any dessert lovers dreams. Ooey gooey sticky marshmellow and dripping chocolate pour out the sides as one bites down on the crisp graham crackers. mmmm. mmmm. yum!
In addition to the traditionalist way of eating a smore, many variations have come into being. And how you make your s'more is only as limited as your imagination. Try adding peanut butter, nutella, pretzels, sprinkles, jelly or brownies.
S'mores have entered into mainstream culture with s'mores kits being a popular gift item and several restaurants and eateries offering a s'mores platter where they bring you a flame, skewers and all the components to make your own s'mores right at your table.
In honor of National S'mores Day, wear your love for s'mores on your sleeve with these fun and festive s'mores t-shirts. Or browse our many smores tribute products and gifts including s'mores necklaces, I heart s'mores apparel, s'mores lover mugs and more.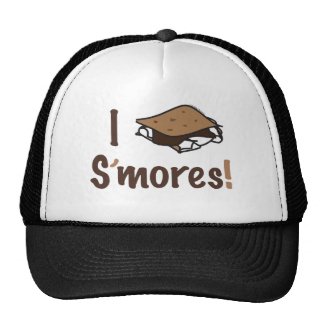 I Love Smores Hat