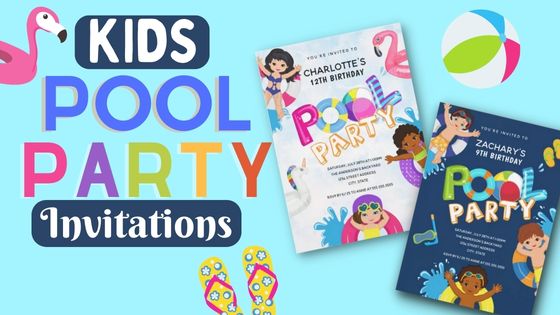 Are you looking for the perfect pool party invitations for your child's birthday? Children who have summer birthdays can make a big splash by having a pool party themed birthday! Kids pool parties not only provide endless fun but they also keep everyone safer with being outdoors in the open air. You can host a birthday pool party in your own backyard.
Depending on your child's age will determine if it's a boy only or girl only invitation list. 🙂 The pool party invitations below have you covered for all scenarios.
Some things you'll want to have on hand are dry towels for everyone, a place for kids to change and a bathroom that keeps them with as few steps into your home as possible. After all, you don't want your home to be flooded from little wet feet running in and out.
Girl's Birthday Pool Invites
Pool Birthday Party Invites for Boys
All these invites can be easily personalized. You can even change the number year of the birthday with any of the templates. If you're curious to see the design process for how I create these custom pool party invites then be sure to watch the video below!