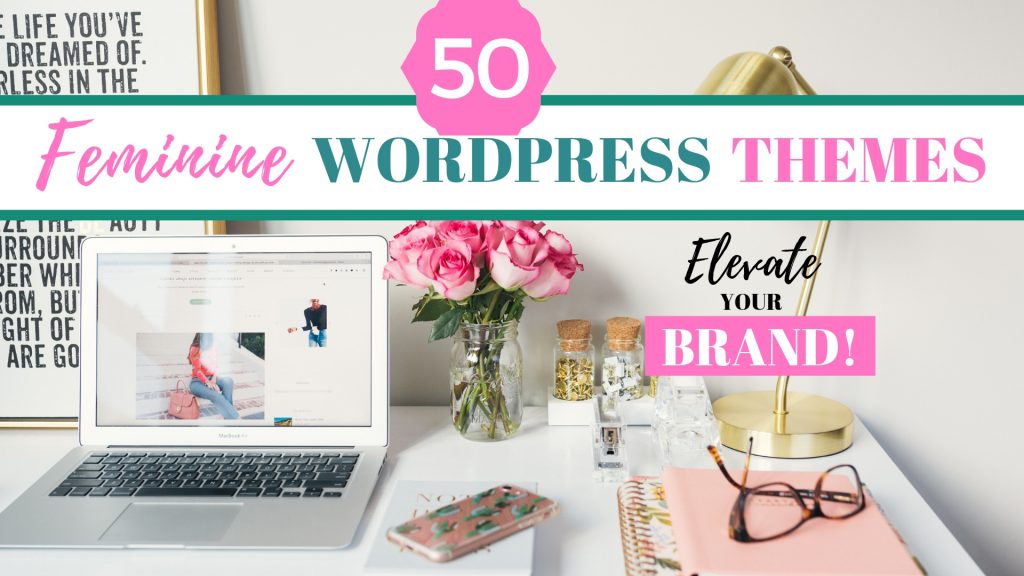 *This post contains affiliate links, which means that by clicking on a link and purchasing a product, I'll receive a small commission, at no additional cost to you. Please see my disclosure policy for details.
This post is our ultimate round-up of beautiful, feminine WordPress themes for 2019. So if your New Year's resolution was to start a mommy blog, a wedding blog, a lifestyle blog, foodie blog, fashion blog or how to make money online blog you've come to the right place. Selecting a pretty blog theme to represent your business and brand can be overwhelming because there are so many stunning feminine WordPress themes to choose from.
Pretty WordPress Themes
We've made it easier for you to find the girly feminine WordPress theme of your dreams, by compiling an epic collection of 50 Fabulous Feminine WordPress themes. Browse below to find the pretty blog design that suits you best. There's never been a better time to be a lady blog boss, so go build your online empire!
These premium WordPress themes are compatible with self-hosted WordPress.org sites. This means that you will need a domain name and web hosting to run these themes. Read how to install WordPress step-by-step.

Malina Theme – The Malina Theme is a pretty girly WordPress design for galpreneurs and bloggers. The theme is WordPress 4.9+ ready and is built on the Divi 3+ theme with the visual builder. Fully optimized for mobile that displays beautifully across all mobile devices.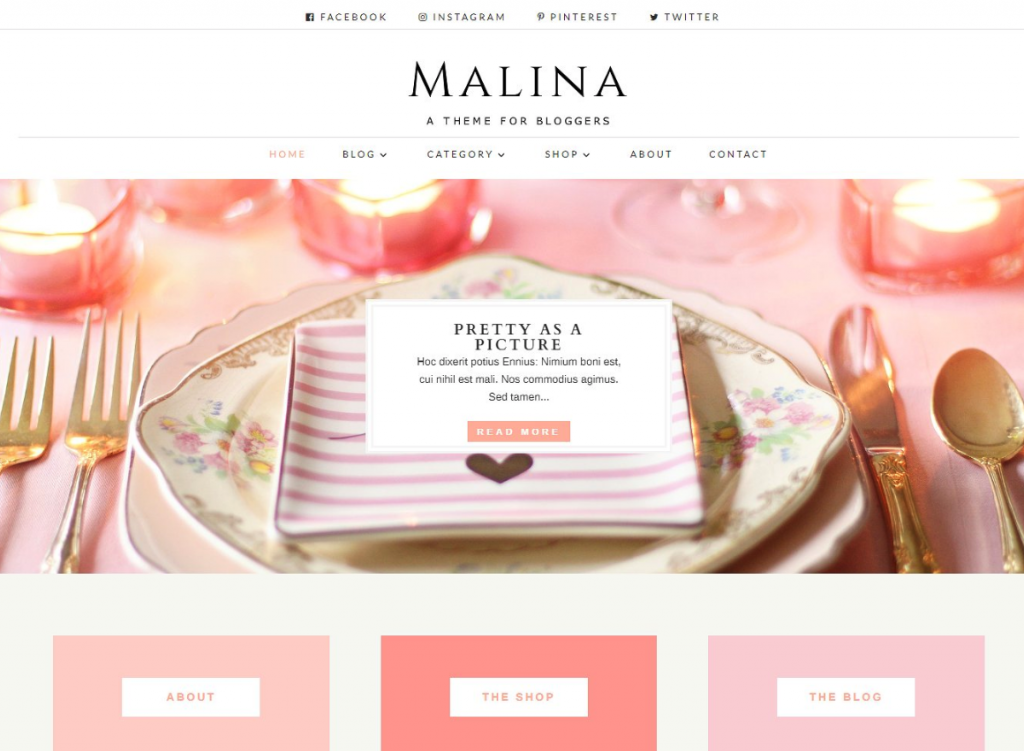 Features:
15 Different professionally designed layouts
Instagram Ready
3 Divi Blog Page Layouts

2. Pretty Theme – Pretty is a theme that is sweet as a spring flower. The Pretty WordPress Theme is designed for the female entrepreneur, and blogger.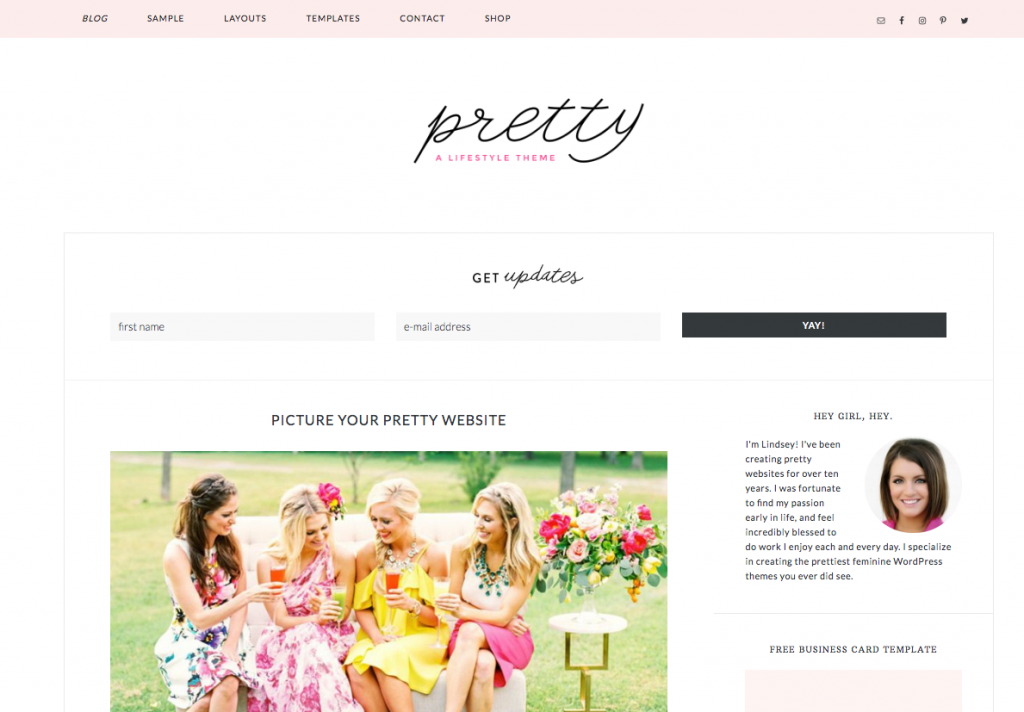 Features:
eCommerce Ready using WooCommerce
Easy Recipe Plugin Ready
In Post Navigation (prev and next post)
3 Layout Options

3. Modern Blogger Pro Theme – Lesruba Designs runs on Modern Blogger Pro, which is why it may look familiar. 🙂 I love this theme and have built many sites with it. Modern Blogger Pro is a child theme which runs on the Genesis Framework. You can purchase Genesis for a low one-time fee, which gives you unlimited support, updates, to build as many Genesis-powered sites as you need.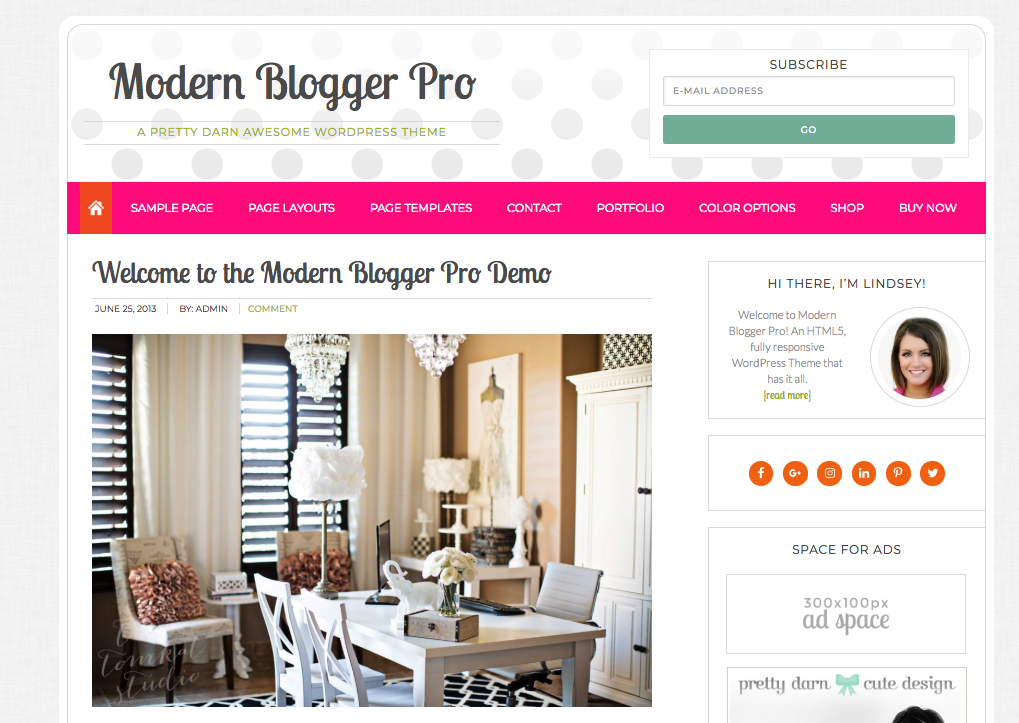 Features:
Six Page Layouts to choose from!
A Custom widget area for your Portfolio Page
Ad Space PSD files
Multiple Color Options with various backgrounds

4. Hello Beauty Theme – Hello Beauty WordPress Theme is for Creative shepreneuers. Forge the wild west or a new frontier in stylish beauty with this modern feminine WordPress blog design.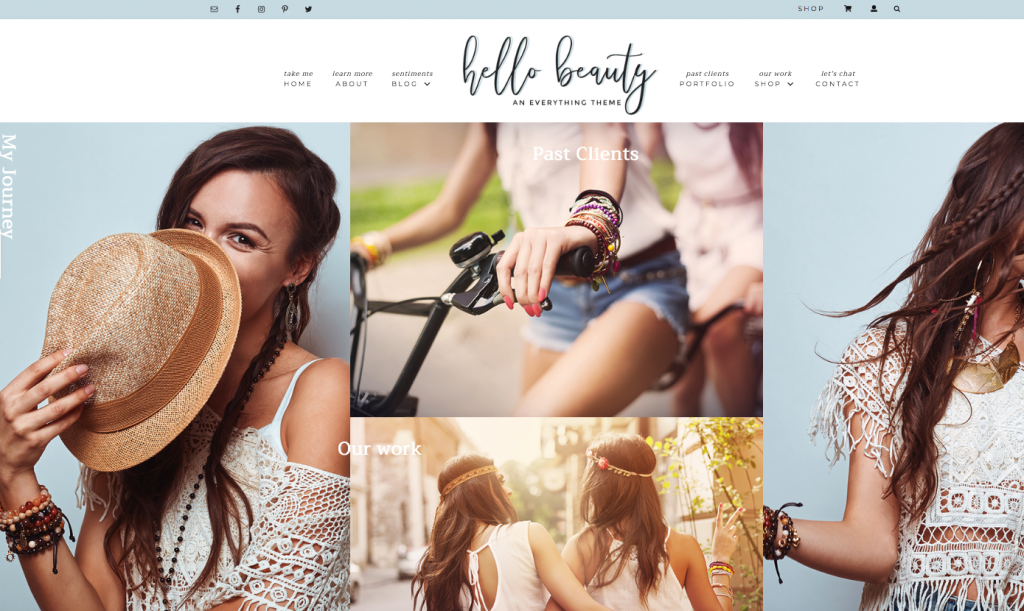 Features:
Parallax Image Sections
Change the colors in the Customizer
Widget Sections on homepage are Flexible
Custom Filterable Portfolio Page
eCommerce – Woocommerce Styling Blog
EasyRecipe Styling
Full width Social Media Bar below footer

5. Rachel Theme – Sweet and pretty the Rachel WP theme is a signature girl blogger template for WordPress.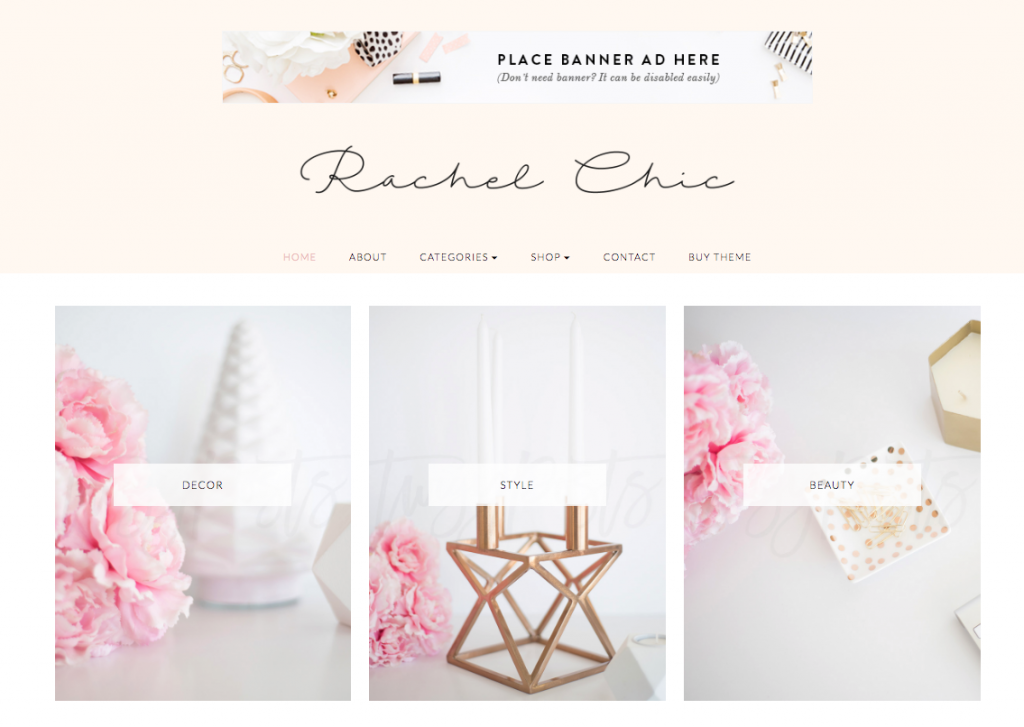 Features:
Responsive layout design
Easily upload your own header through Customizer
Place 3 featured widgets below the slider or footer.

6. Pretty Happy – Pretty Happy is a colorful feminine eCommerce WordPress Theme for lady bosses and bloggers who sell products. Pretty Happy is WooCommerce ready, giving you the option to sell products, digital or tangible.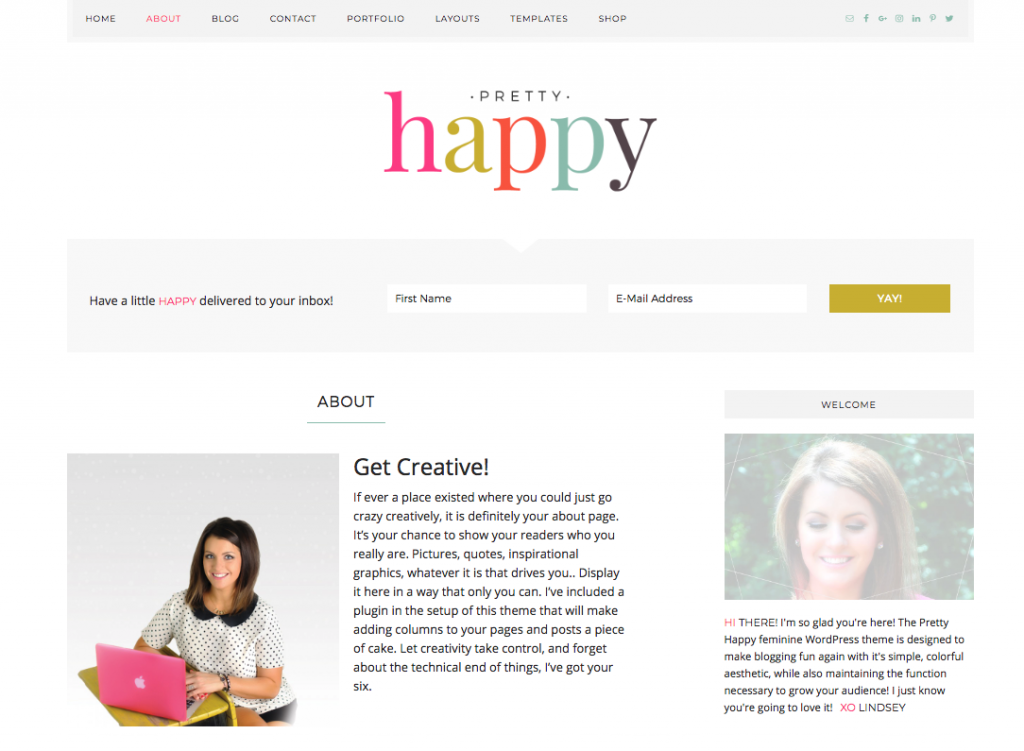 Features:
Header Uploader (Retina Ready & Responsive!)
In Post Navigation
Easy Recipe Plugin Ready
Sticky Navigation Menu

7. Quinn Theme – Quinn is the perfect fit WordPress theme for wedding event planners, wedding shops or photographers. The Quinn WordPress theme is for anyone with an eye for the elegant, and creatives who love a traditional, girly touch.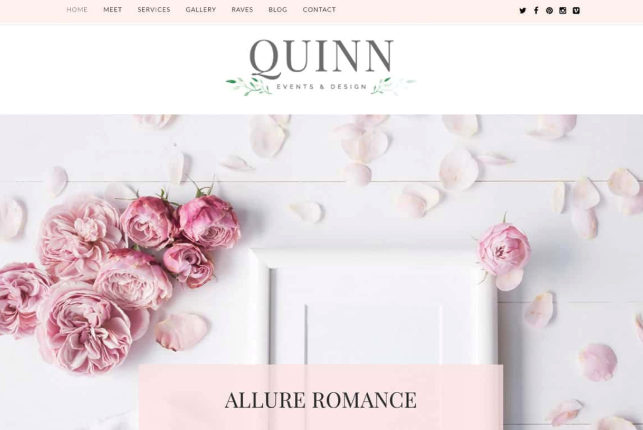 Features:
Featured Slider
WooCommerce Compatible
3 Promo Boxes
Sticky Menu

8. Pretty Chic – Stylish and sleek, the Pretty Chic theme is. You can place widgets on every single page if you like. You can use one navigation bar, or three.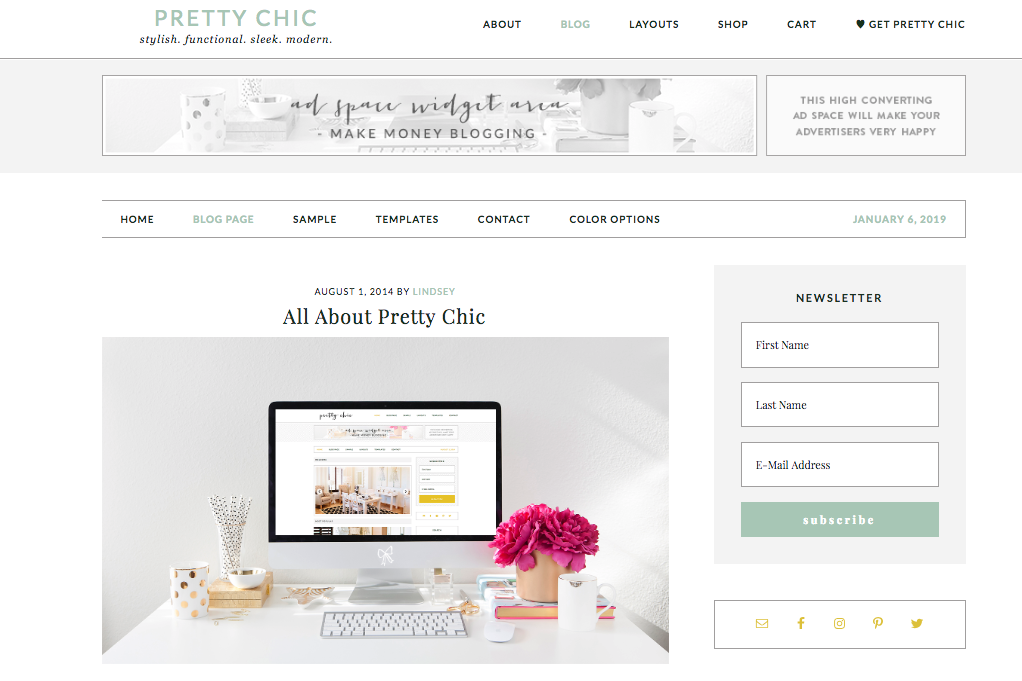 Features:
Featured Widget Area at the bottom of each page.
Sticky Header & Navigation
eCommerce Ready
The option to use One, Two or Three navigation menus.

9. Tiffany Theme – Stylishly designed with the makers, calligraphers and DIYpreneurs in mind. Built for E-Commerce shop, the Tiffany wordpress theme celebrates minimal, feminine flexibility with the banner tiled homepage layout.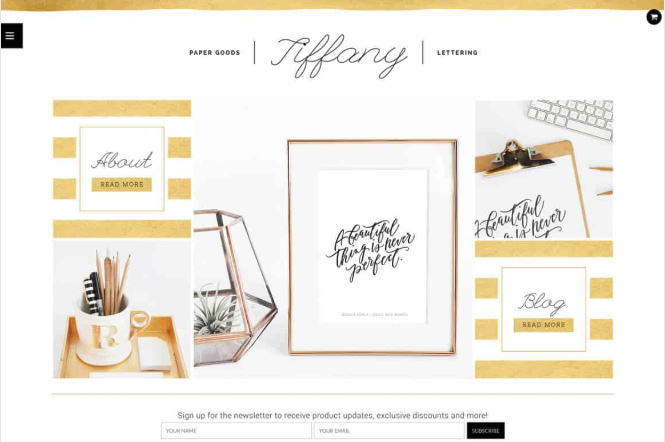 Features:
Banner Tiled Homepage
Coded for SEO Friendly
Responsive
WooCommerce Compatible
10. Ella Sofia Theme – Ella Sofia is a Modern and clean wordpress genesis child theme, built on the Genesis Framework.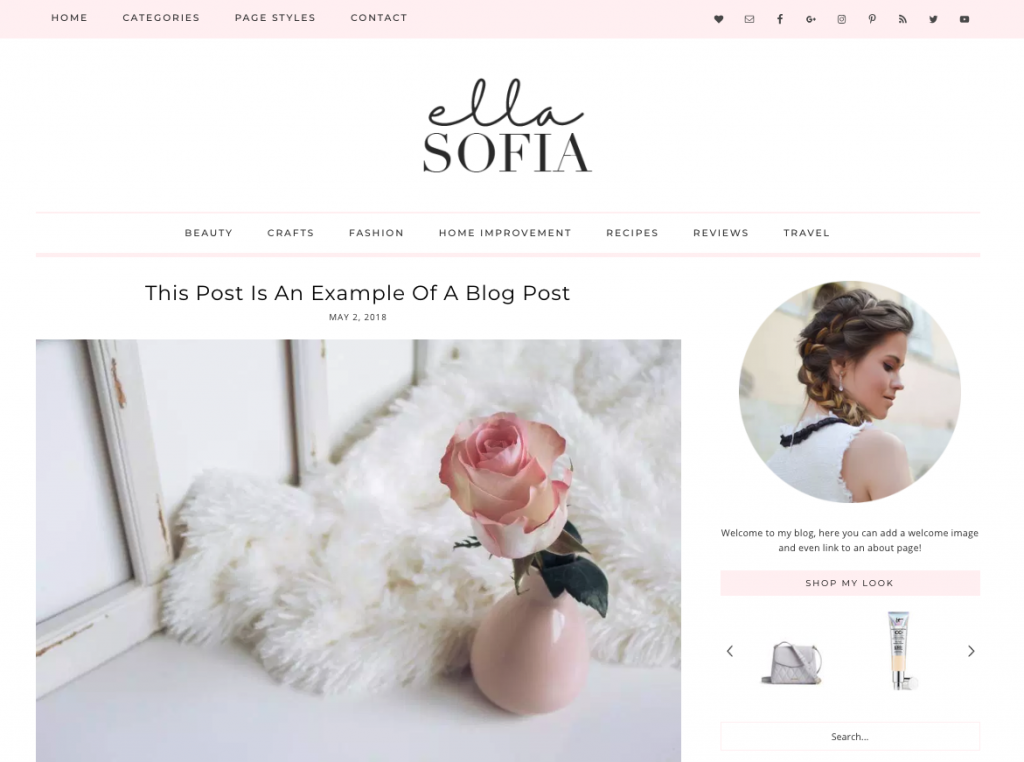 Features:
Responsive Layout
Beautiful Categories Archive page
Round grid style category pages
Woocommerce Compatible

11. Wanderlust Theme – Wanderlust is a modern and clean WordPress design child theme, built on the Genesis Framework.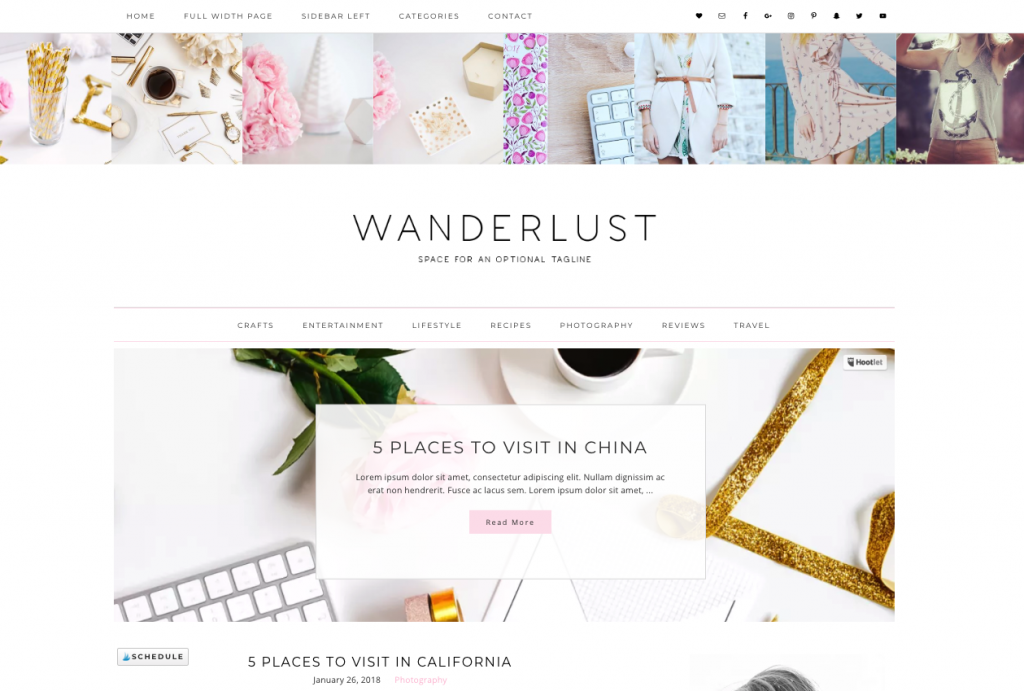 Features:
Responsive Layout
Genesis Framework
Round grid style category pages
WooCommerce Compatible
3 Column Footer

12. Victoria Theme – The Victoria blog theme is designed for gal bosses, bloggers, and infopreneurs out there who want to showcase their business online in an elegant, professional way.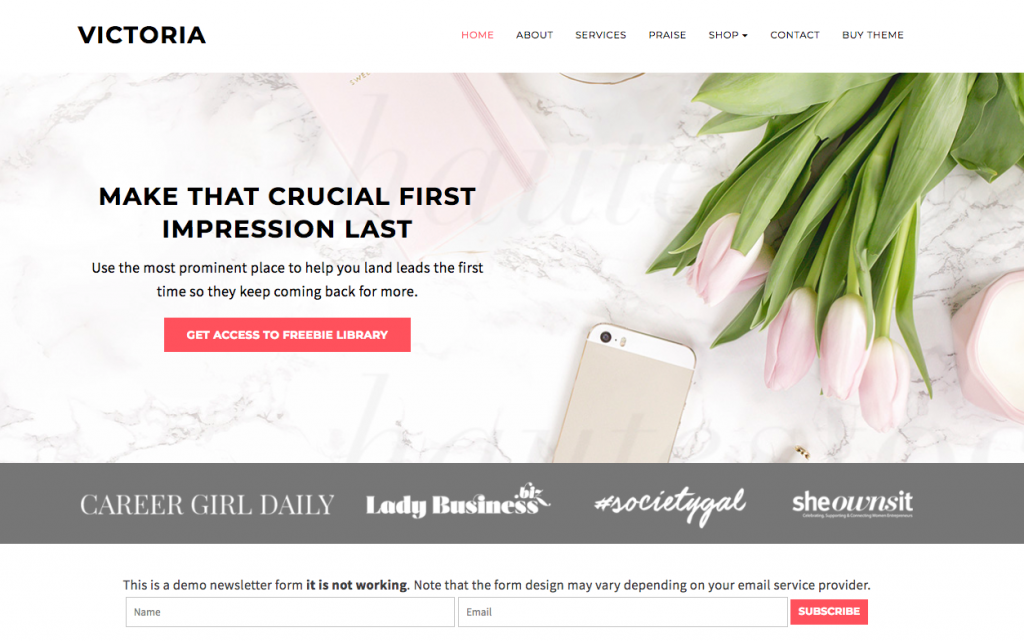 Features:
WooCommerce compatible
Showcase Social Proof
Sticky Menu
Translation-ready

13. Pretty Sweet – The Pretty Sweet Theme is a sweet, fun theme, waiting for you to make it your own.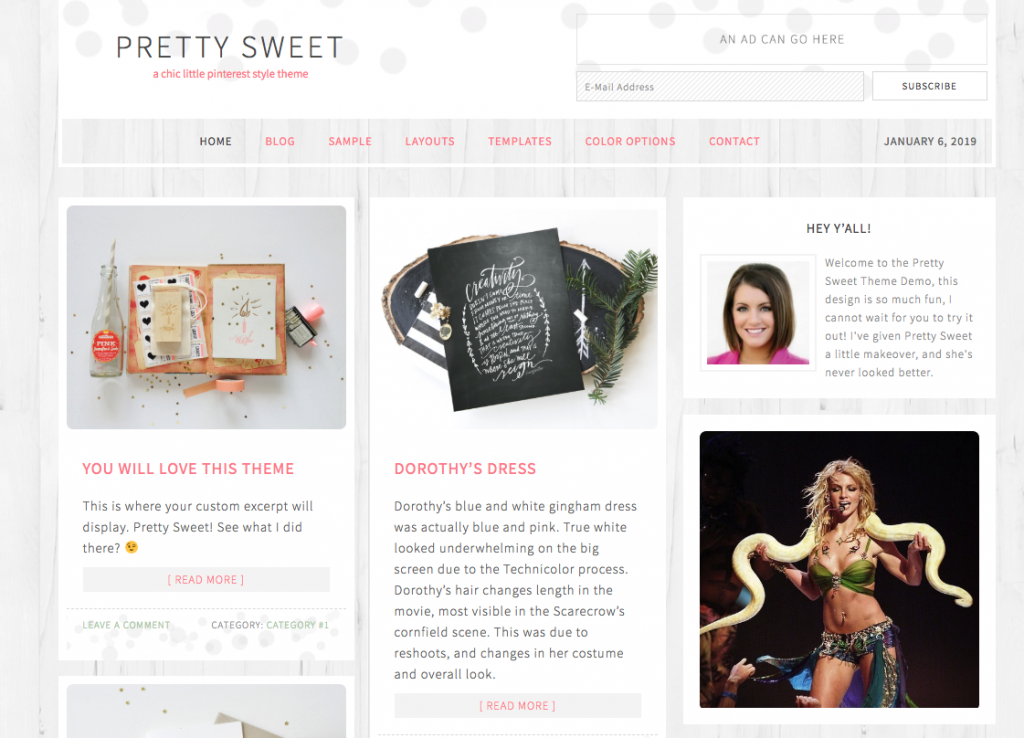 Features:
Pinterest Style Layout
Optional Sidebar on Home Page
Two after post widget areas ideal for gathering email subscriptions
Confetti! background images for header and after posts

14. Hello Peach Theme – A crisp, clean Hello Peach child theme is built on the Genesis Framework.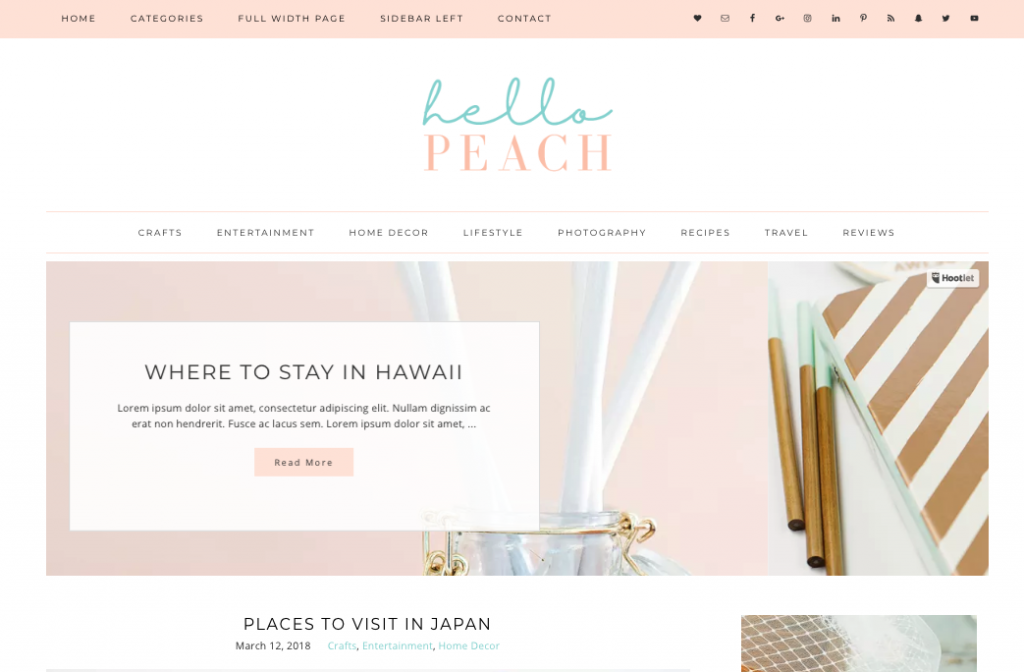 Features:
Beautiful Share Icons
Set up Instructions
SEO optimized.
HTML5 Markup.

15. Olivie Theme – The Olivie WP theme will satisfy fashion bloggers, beauty bloggers, and lifestyle bloggers.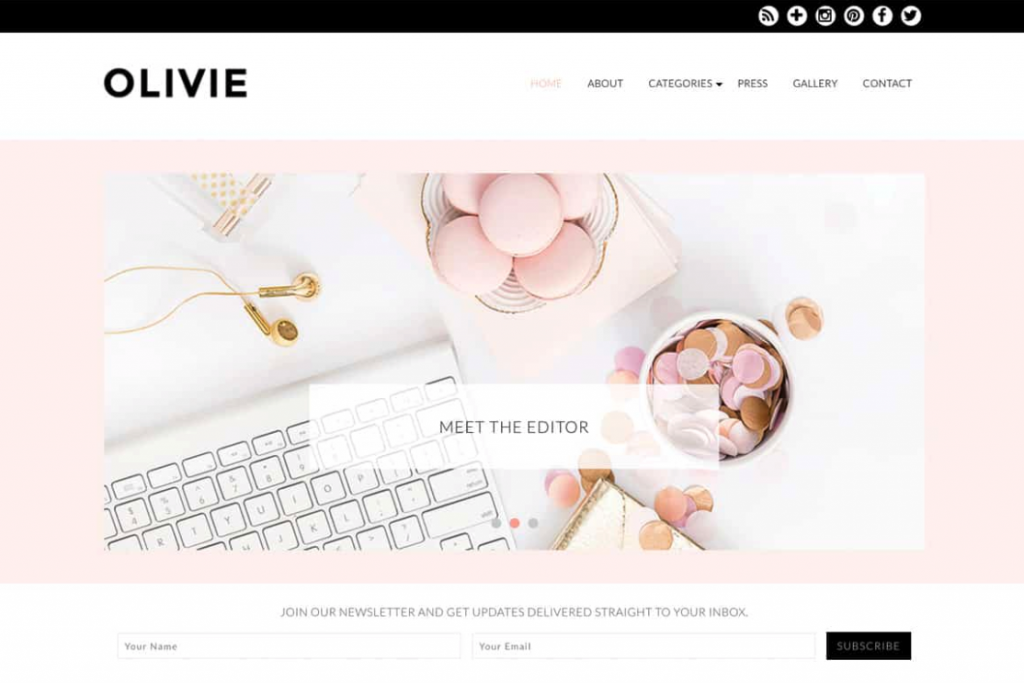 Features:
Sticky Menu
Easily Customize Colors
Responsive
Translation Ready

16. Poise Theme – Perfect design for foodie, lifestyle or travel bloggers. Built with a 12 column grid structure, Poise is a fully responsive theme which will make your blog look great on all devices.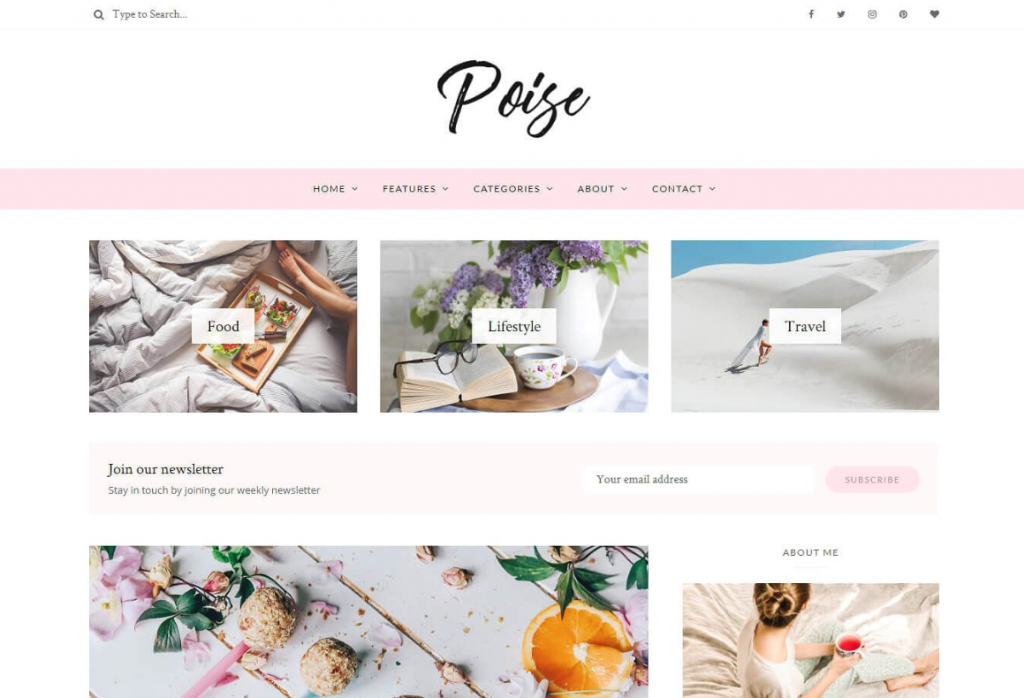 Features:
12 column grid structure
Custom widgets for an about section, latest posts, Instagram, promo boxes, image banners, and a social media section

17. Emile Belle Theme – Simplicity is the focus of the Emile Belle premium WordPress theme that is built on the Genesis framework. This theme is ideal for bloggers who want a simple yet stylish online presence.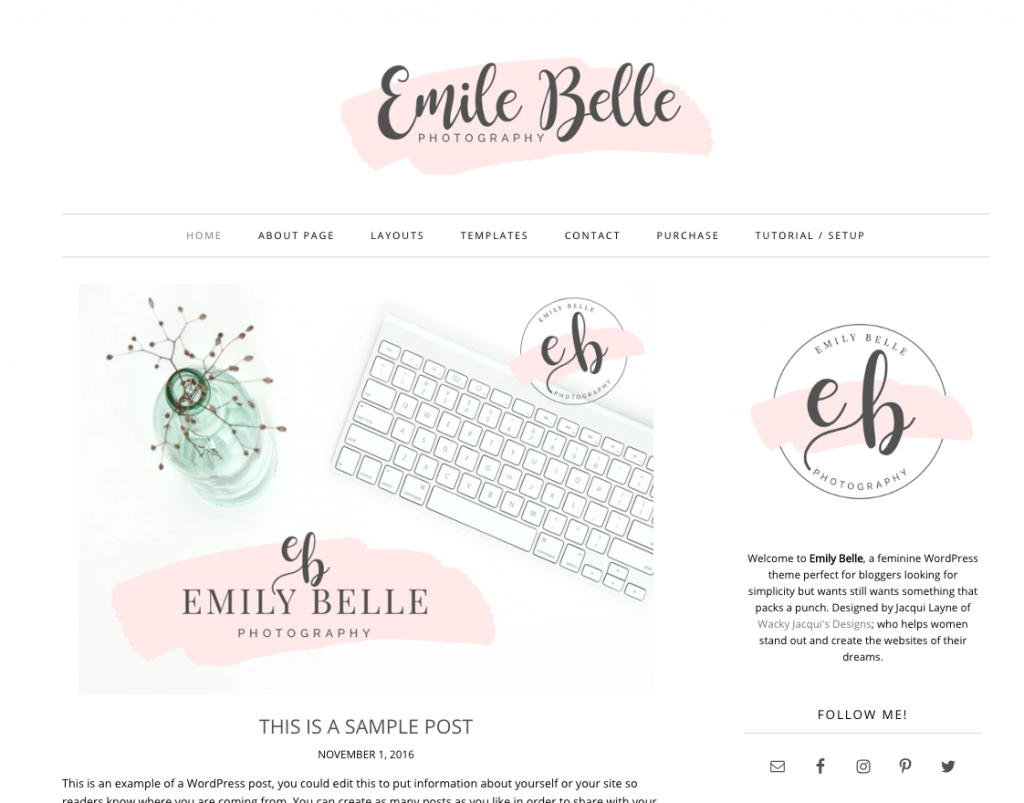 Features:
Fully Responsive Design
Mailing List Integration
Instagram Gallery Integration
Color Customizer

18. Creative Theme – Creative is a feminine WordPress theme for creative types so appealing for crafters and bloggers.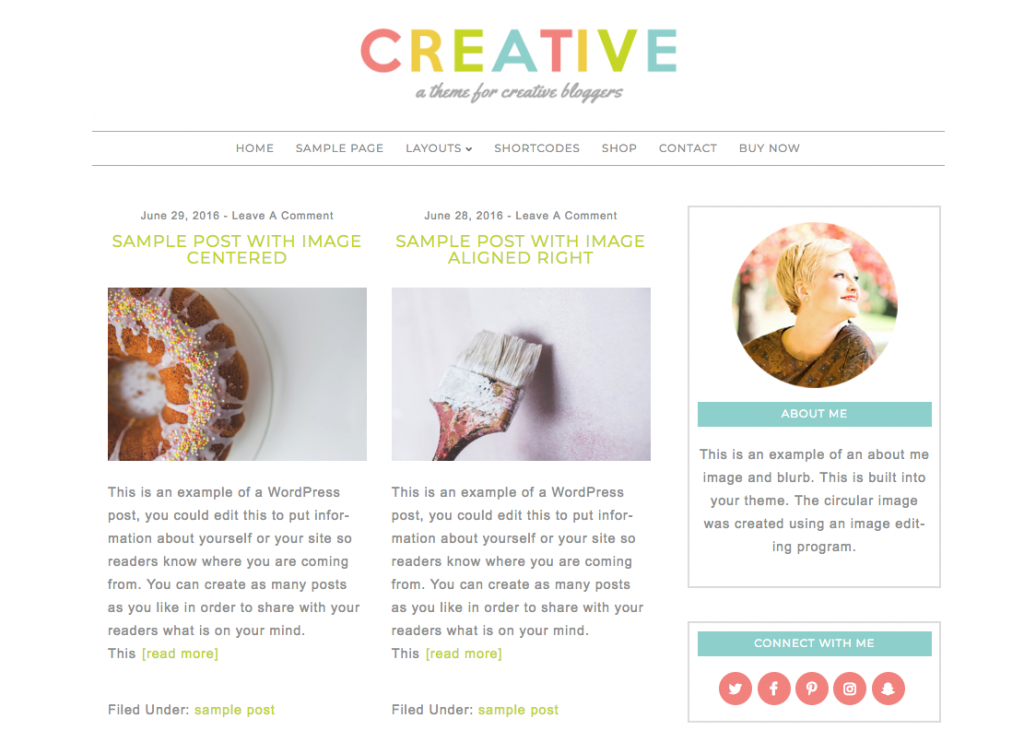 Features:
Fully responsive
Social media icons widget
Woocommerce ready
5 layout options

19. Fun Theme – Get ready for some fun with the Fun WordPress theme.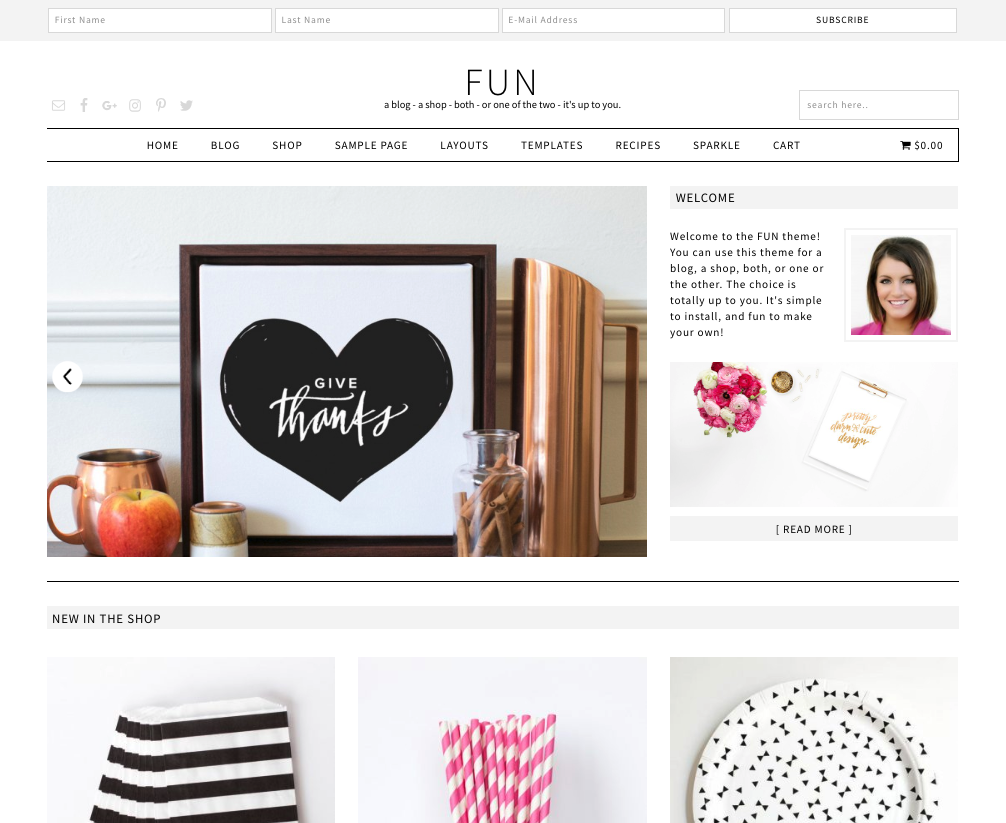 Features:
WooCommerce Ready
Fully Widgetized Custom Home Page
Built in style for Popular Posts
Easy Recipe Plugin Ready

20. Chloe Theme – Trendy and chic the Chloe WordPress Genesis child theme, built on the Genesis Framework.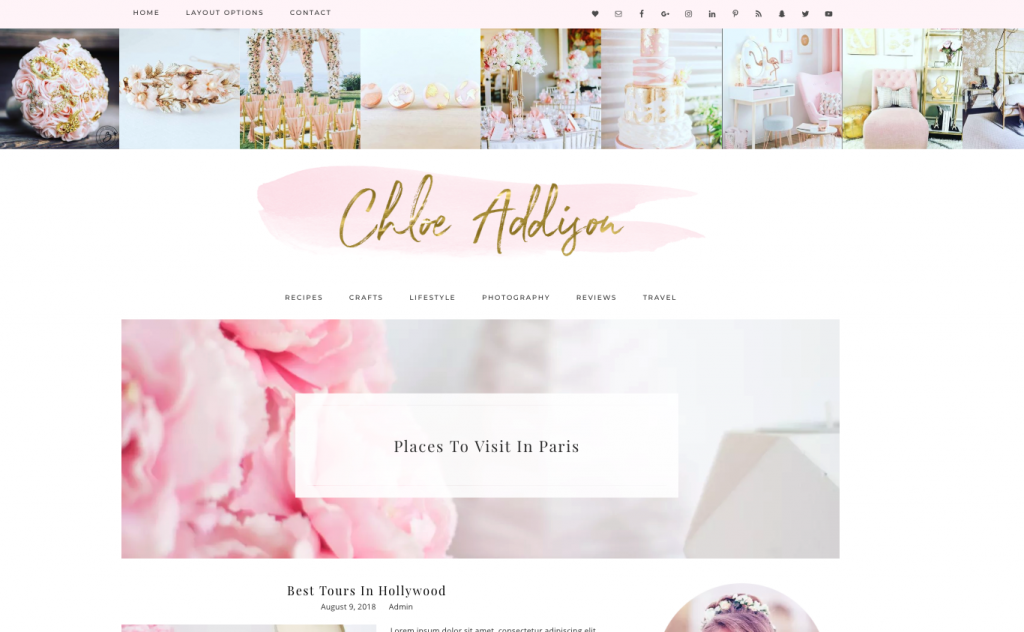 Beautiful Share Icons
Woocommerce Compatible
SEO optimized.
Free fonts Used

21. Elegance Theme – This rustic charm and Elegance WordPress theme features a beautiful floral themed header design and wooden background image.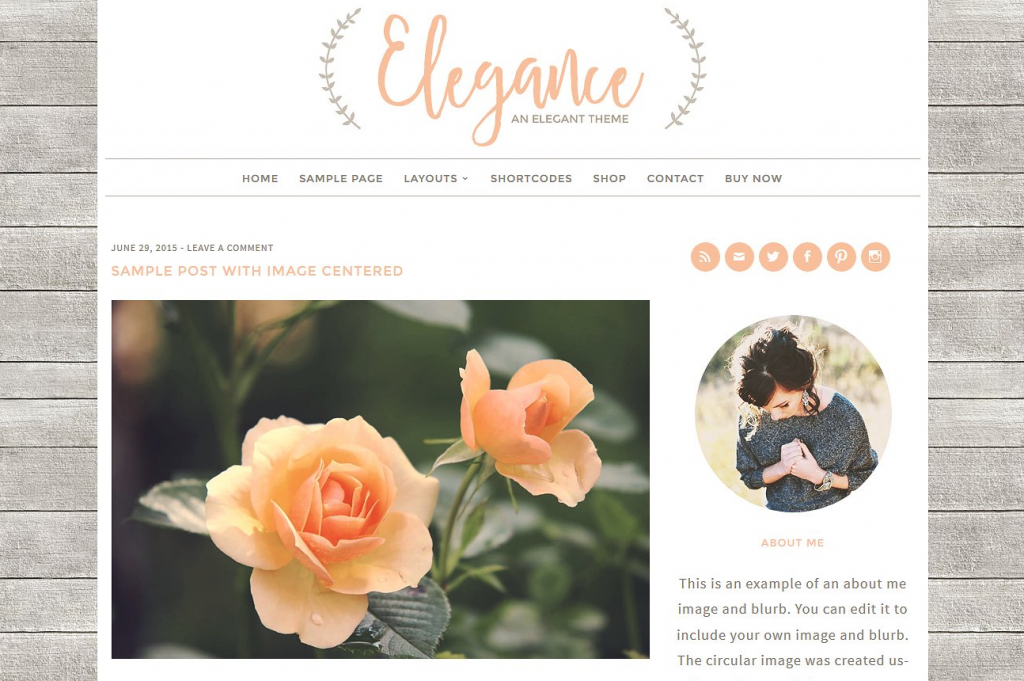 5 layout options
Social media icons widget
Woocommerce ready
Choose from the large selection of Google fonts

22. Pretty Fabulous Theme – The Pretty Fabulous WordPress Theme is just that – packed with function, it's created for today's social influencer or blogger looking for a fresh way to showcase their life, business, and style.
Fancy fade in effect on home page widgets
Completely Responsive, looks amazing on all devices!
Loads lightning fast – 1.9 seconds
Optional Instagram Widget at bottom of page
Built in "hey bar" at the top of the screen

23. Sophie Theme – The Sophie Theme for WordPress was designed with photographers in mind to showcase your portfolio on a clean, modern canvas.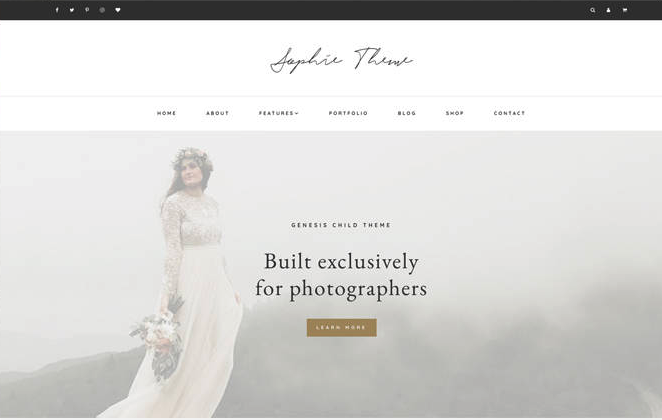 Features:
Woocommerce ready to start selling your products
Option to setup Homepage by using Front Page widgets or Visual Editor
Easily change colors to fit your brand identity through the live customizer
Instagram Feed with comments and likes on hover

24. Daisy Theme – With subtle touches of color and a minimalist design, the Daisy WordPress Theme is the perfect theme for any lifestyle blog. Daisy runs on the Genesis Framework.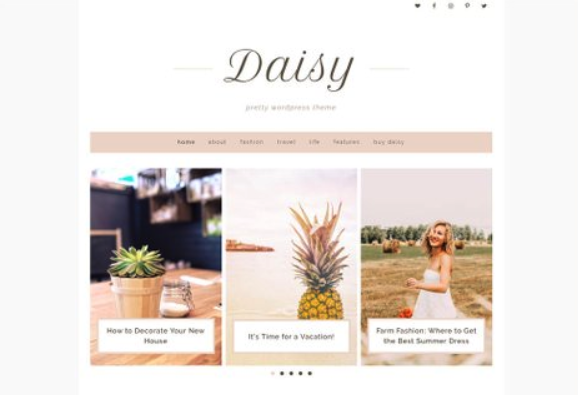 Features:
Vertical Post Carousel
Responsive Design
Add your Instagram Feed to the Footer
Customized for specific plugins

25. Ava McLaren Theme – Feminine WordPress Theme Ava McLaren is designed for sassy solopreneurs and aspiring female entrepreneurs.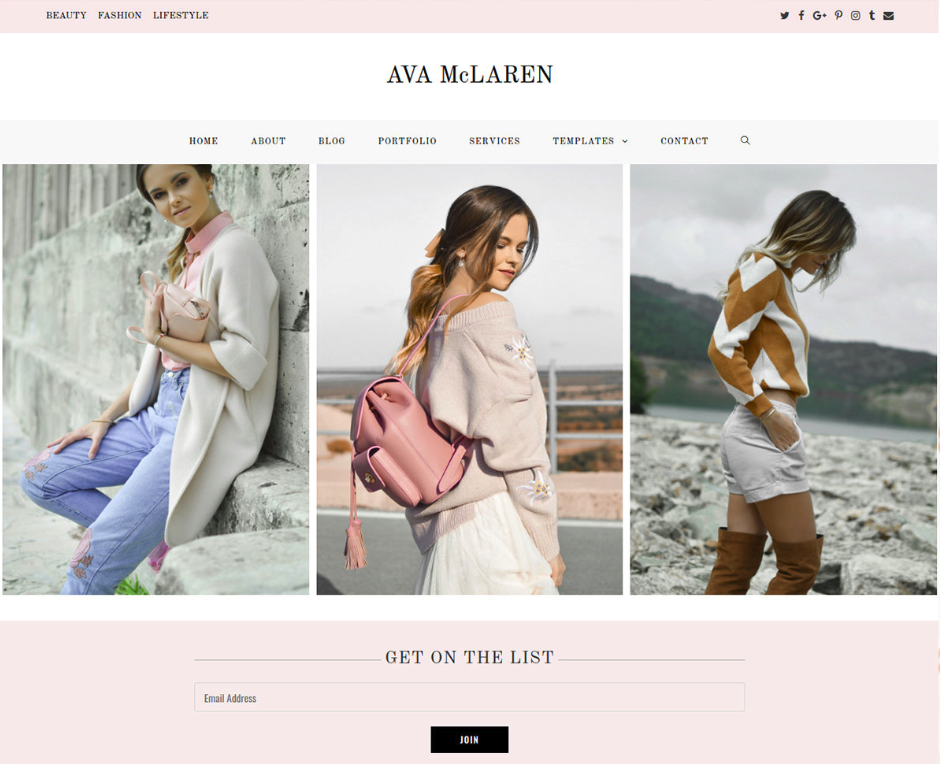 Features:
Multiple blog post section layouts
Built-in back to top button
Customizable drop down menu
Retina optimized logo

26. Girly Theme – The Girly theme allows you to customize the way your website looks, and see the changes in real time. You can adjust the colors, the design details and much more.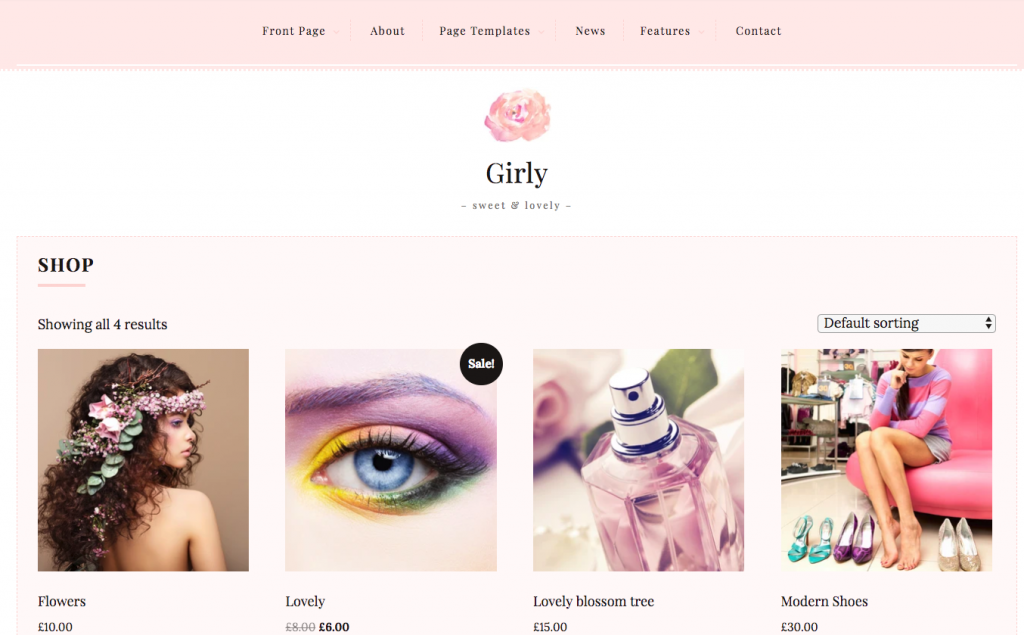 Features:
Optimized for speed
Mega Menus
Live Customizer
Translation & RTL Ready

27. Grace Theme – The girly Grace WordPress theme for Ecommerce and Portfolio sites is based on the Genesis Framework. Grace is great for photographers, Etsy crafters, or women bloggers.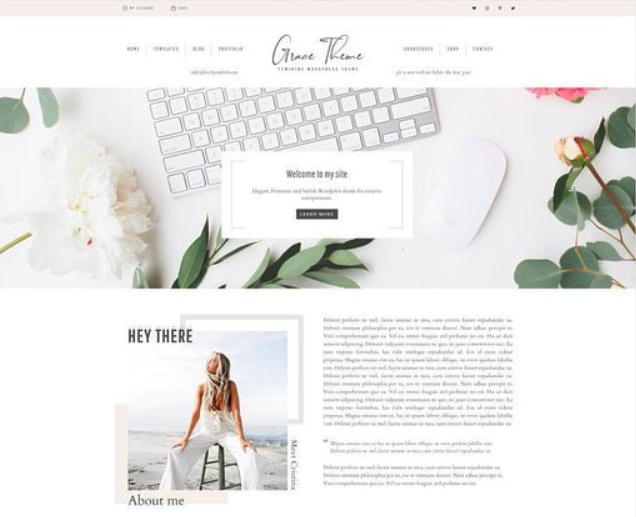 Features:
3 parallax image backgrounds to upload.
Woocommerce compatible! (sell affiliate products to earn commission or own products).
Masonry Filterable portfolio and blog to display your latest projects or/and post in 2, 3 or 4 columns.
Easy navigation, 1 Sticky Navigation and "back to top" button.

28. Amelia Theme – Amelia is one of those beautiful feminine WordPress themes designed with the fashionista blogger + entrepreneur in mind. This theme is ideal for a business website, blog, or a little of both.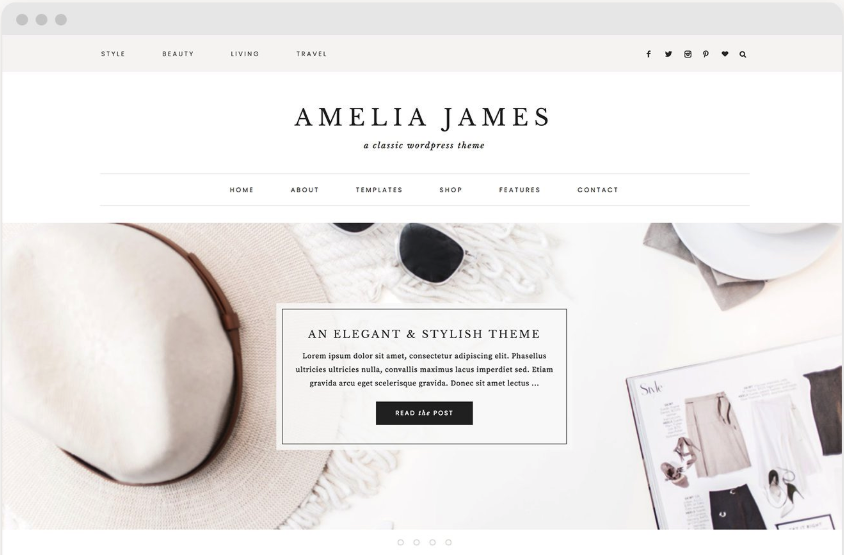 Features:
Shop the Post widget integration
Instagram landing page
Scrolling navigation menu with social icons + search
Plugin styling for WooCommerce, Genesis eNews, EasyRecipe, and Ninja Forms

29. Ginny Theme – Ginny is another Genesis child theme for those seeking a modern and feminine blog design.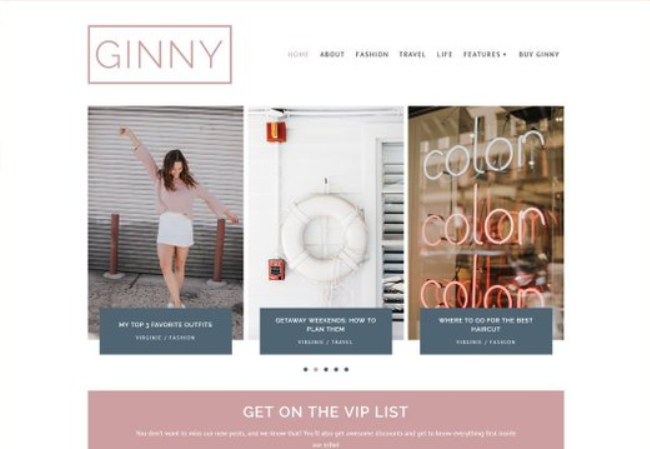 Features:
Vertical Post Carousel.
Strategic Widgets area
Add your Instagram Feed to the Footer.
Responsive Design

30. Hello Chic Theme – The Hello Chic Theme was developed with creative entrepreneurs in mind, and features a custom page hero and social page template.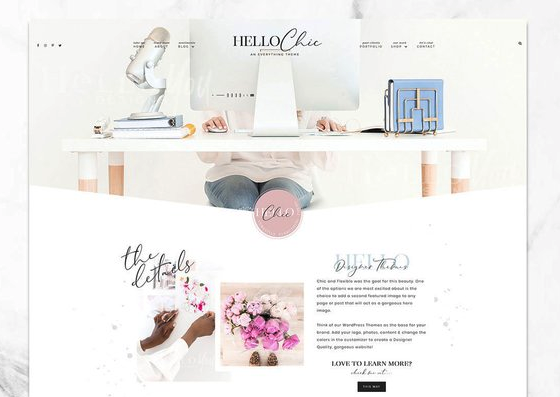 Features:
Custom Homegrid or Full width section
Mobile Responsive
Custom Filterable Portfolio Page
EasyRecipe Styling

31. Courtney Creative Theme – Courtney Creative Feminine WordPress theme design is a Genesis child theme – a perfect feminine theme for a freelancer, designer, creative, entrepreneur or business owner.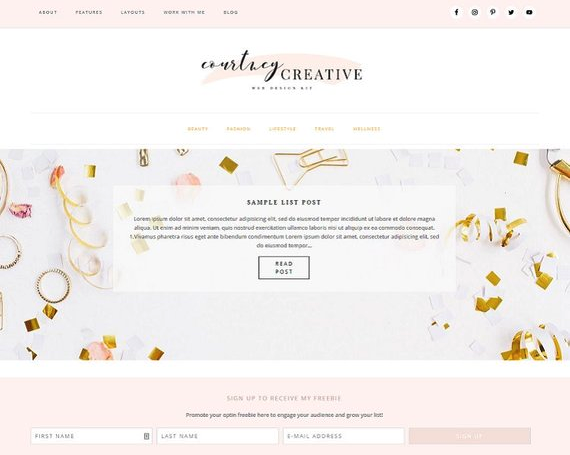 Features:
Mailing List Integration – with MailChimp, Convertkit, etc
Call To Action Boxes
Woocommerce Compatible – shopping cart software to sell
Instagram Gallery

32. Atelier Theme – a premium Genesis WordPress theme by SheShoppes. The Atelier feminine blog theme is a perfect match for wedding professionals, florists or event planners.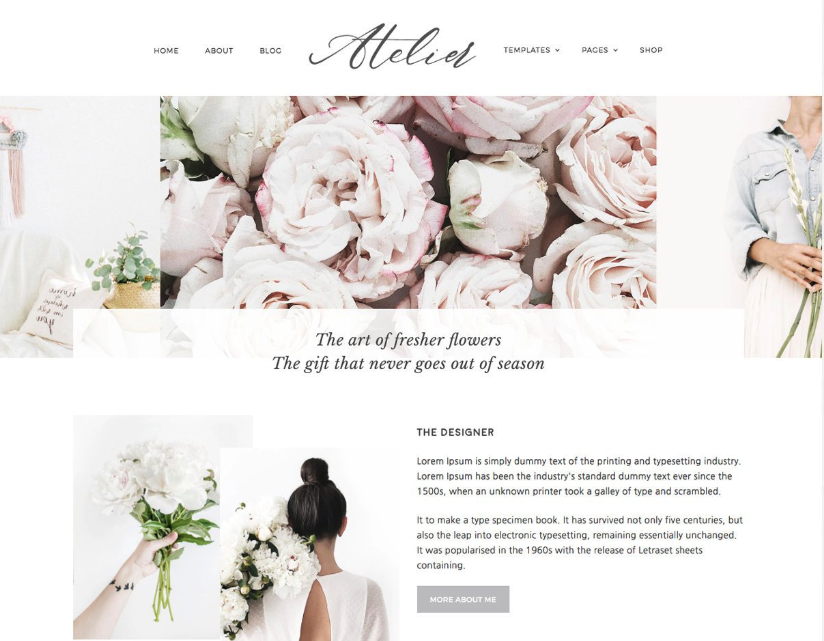 Features:
Customize colors for background, text, links, hover links, top navigation background colors, buttons, etc.

Flexible and unique custom templates (Homepage, About Me, Blog, Categories, Archives, Portfolio, Services, Instagram, Landing Page, Contact)
You can set the portfolio to have a masonry, slide, grid or classic style

33. Business Babe Theme – Business Babe feminine design layout is an ideal option for a lifestyle coach, beauty or fashion influencer, crafter, or marketer.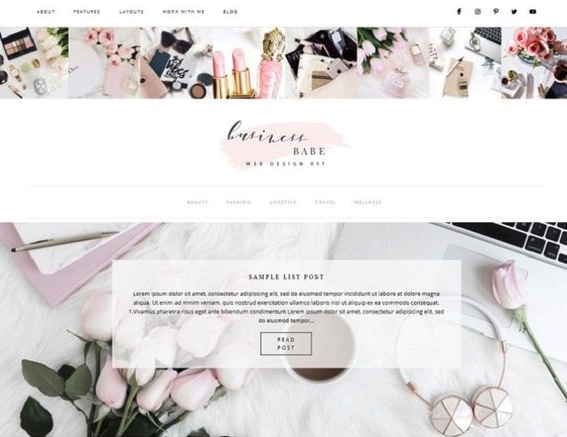 Features:
Fully Responsive Design
Live Color Customizer
Slider – gorgeous full-width featured posts slider
Mailing List Integration – with MailChimp, Convertkit, etc

34. Marigold Theme – Contemporary and moderately glitzy Genesis child theme.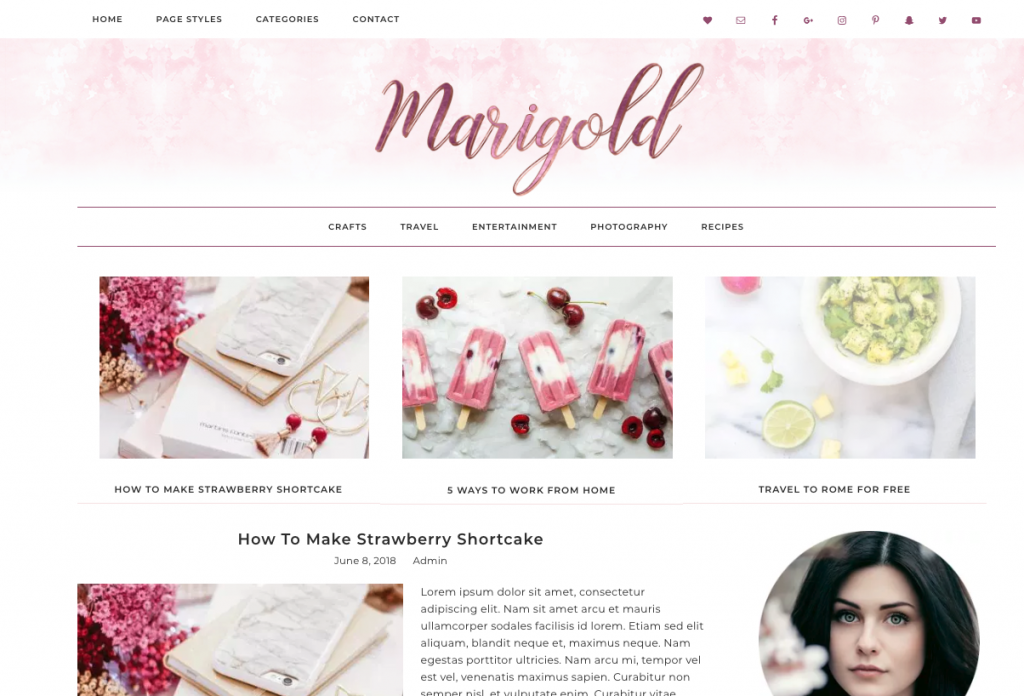 Grid style category pages
Featured Post Area
WooCommerce Compatible
Social Media Icons

35. Pretty Travel Theme – Take off on amazing adventures and share them with the world with the Pretty Travel WordPress Theme from Pretty Darn Cute. This feminine theme is built with the travel blogger in mind.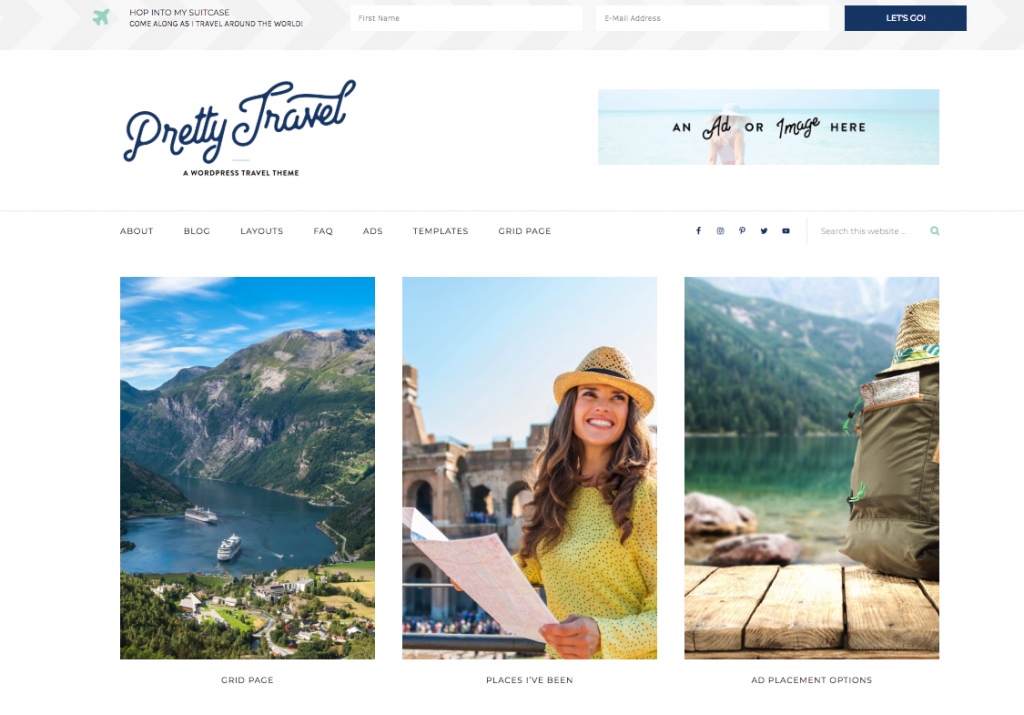 Features:
Fully Widgetized Custom Home Page
Custom Logo Upload
Retina Ready
Color Customizer Panel

36. Hello Foxy Theme – If you're a DIY crafter, a style blogger or a social media marketing maven then Hello Foxy! Hello Foxy is a Feminine WordPress Theme for the Creative Entrepreneur at heart.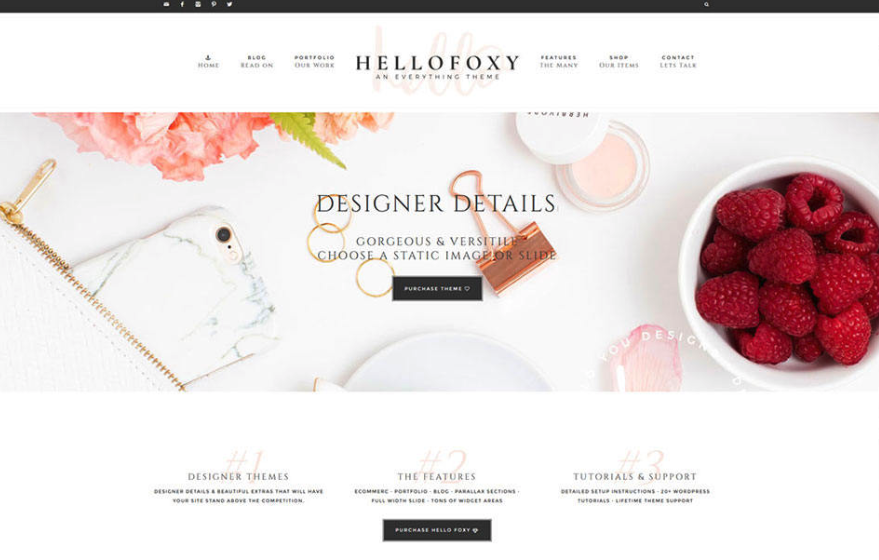 Features:
Unlimited Homepage Layouts
Sticky Navigation
Custom Badge or Stamp widget areas
eCommerce – Woocommerce Styling

37. Hello Glam Theme – Get ready to Glam it up with Hello Glam feminine blog design. This theme suits creative types, online shop owners, Poshmarkers, and affiliate marketers.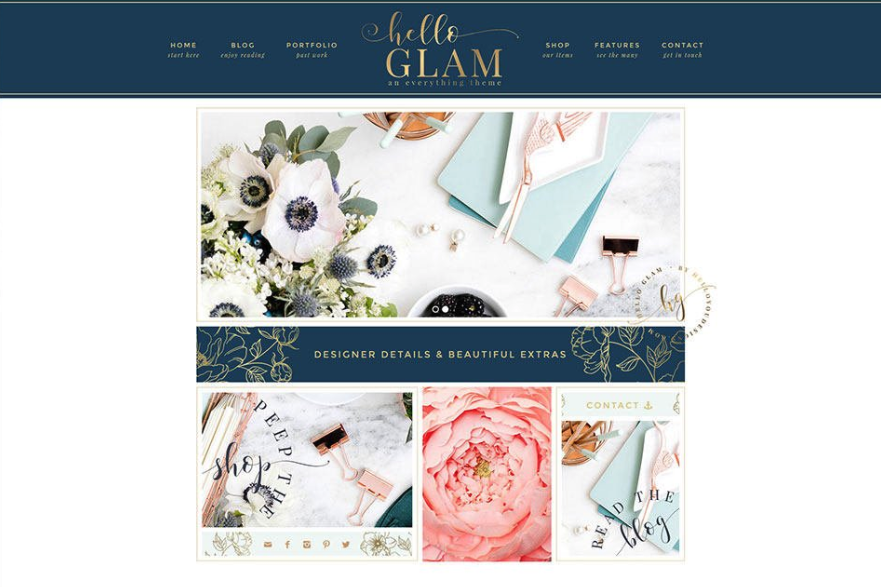 Features:
Center Logo & side navigation
eCommerce – Woocommerce Styling
Pricing Table & Other built in Custom Code for you to use
Retina ready header – No fuzzy logo

38. Hello Lovely Theme – This girly, feminine WordPress blog theme is fashion forward. The Hello Lovely feminine blog theme is packed with features whether you're looking to showcase a portfolio, recipes or products. This theme is on-trend too with a white marble background.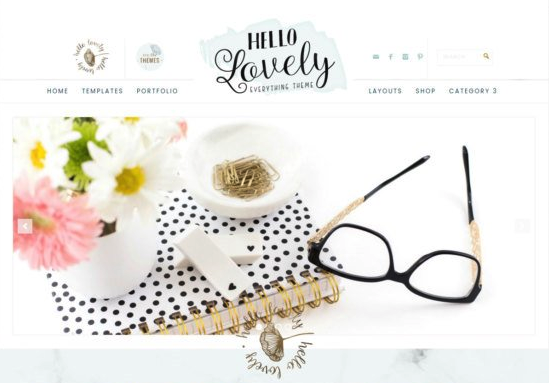 Features:
Tons of widget areas to customize.
Comes with 3 featured images and a White Marble background image
Pricing Table
Styling for EasyRecipe

39. Shirlie Theme – Highlighting mint and peach tones, the Shirlie Blog theme is great for showcasing creative projects.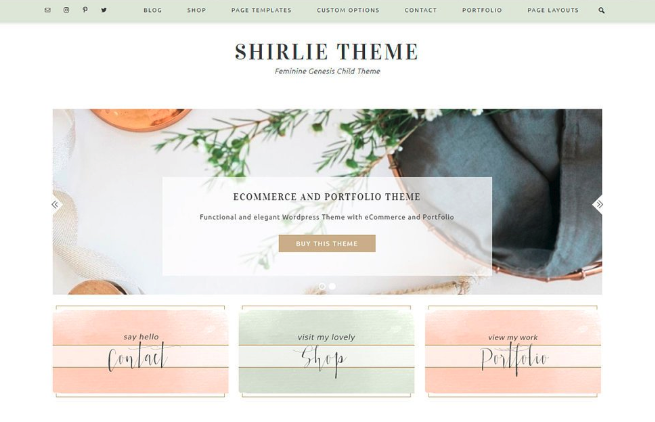 Features:
Full-with or 2/3´s Responsive Slider for post, pages or images.
Styling options – custom colors, more than 300 Google Fonts, background, blog page and header logo.
1, 2 or 3 Menus Location (1 Sticky Navigation).
Suscription boxes compatible with MailChimp, ConvertKit, Aweber

40. Hello Rose – Make a statement with this simply elegant Hello Rose feminine theme for WordPress. Highlight your images, products and services in a gorgeous, modern way. This gorgeous theme features a Social Page Template, two styles of blog output and so much more.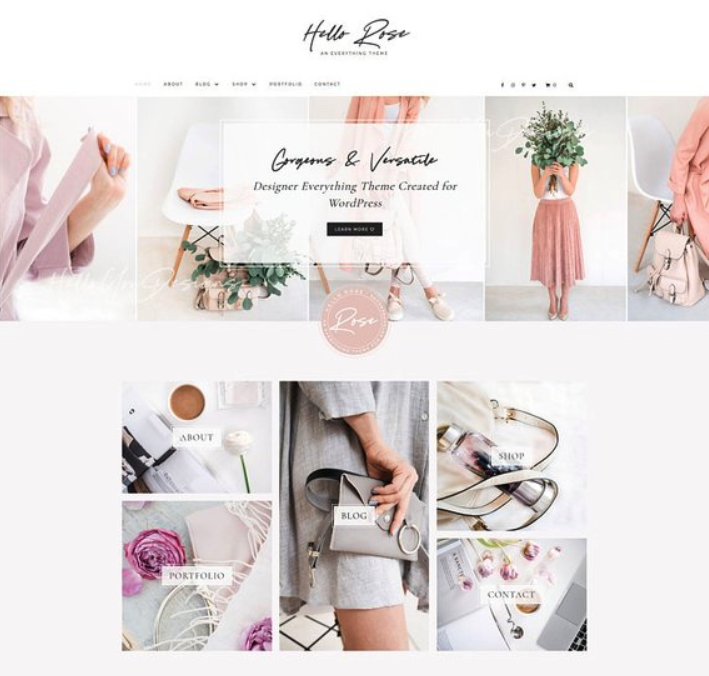 Features:
Custom Carousel Slider
Custom Homegrid
eCommerce – Woocommerce Styling
Custom Filterable Portfolio Page
EasyRecipe Styling

41. Hello Gorgeous – A modern everything theme whether your website is for selling products, showcasing portfolios, sharing recipes, or blogging about your pet pig named Princcess. The Hello Gorgeous Feminine Theme is eCommerce ready, coded for your Portfolio Post Types and EasyRecipes. Change the main colors to match your brand.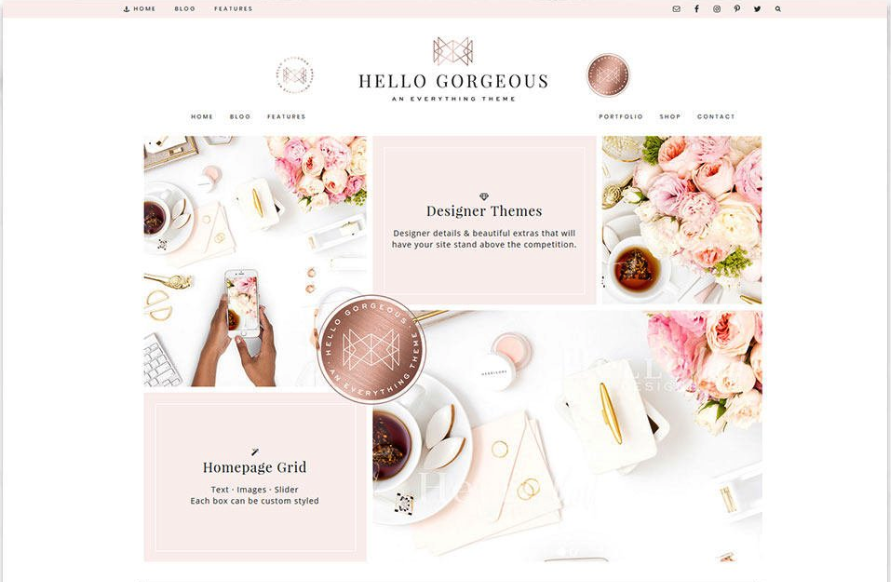 Features:
Custom Portfolio Post Type – NEW Filterable by Category
Gorgeous Fade & Subtle Hover Effects
Add Widget areas on either side of logo
Full width Social Media Bar below footer

42. Hello CEO – Chic one-page style theme. The gorgeous sections on the homepage are versatile and completely customizable. The Hello CEO theme is lovely for any creative entrepreneur officer.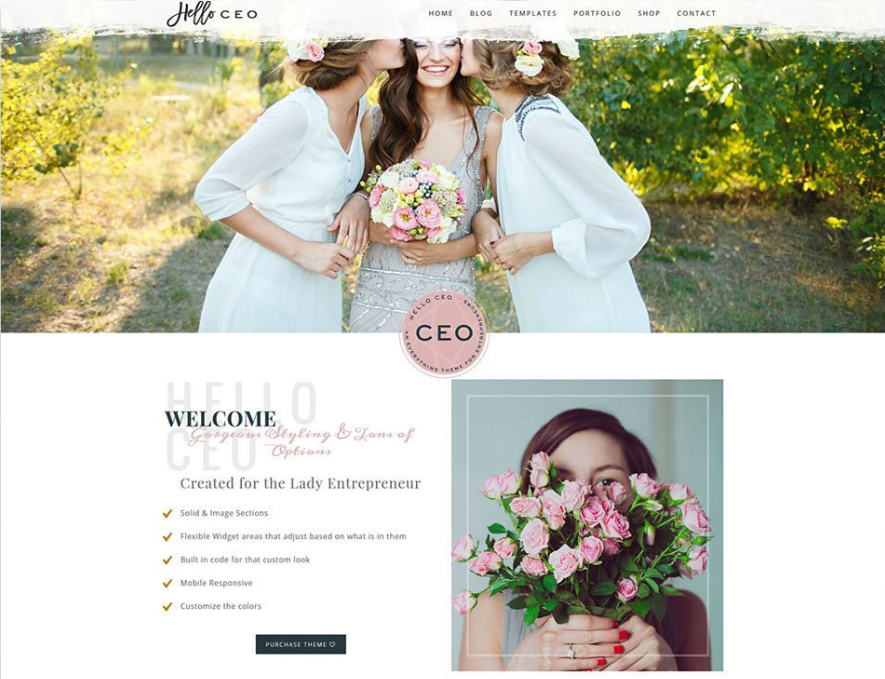 Features:
4 Parallax Image Sections with Gorgeous Fade Effects
eCommerce – Woocommerce Styling
Pricing Table & Other built in Custom Code for you to use
Sticky Navigation

43. Sassafras Theme – A WordPress Genesis Theme created for Creative ladypreneurs. The Sassafras Theme is a refined oasis in the blogosphere.
Features:
Unlimited Homepage Layouts by using or not using widget areas!
Widget Sections on homepage are Flexible
Custom Footer
eCommerce – Woocommerce Styling

44. Paisley Theme – Brand your business in chicness with the Paisley Theme for Female bloggers.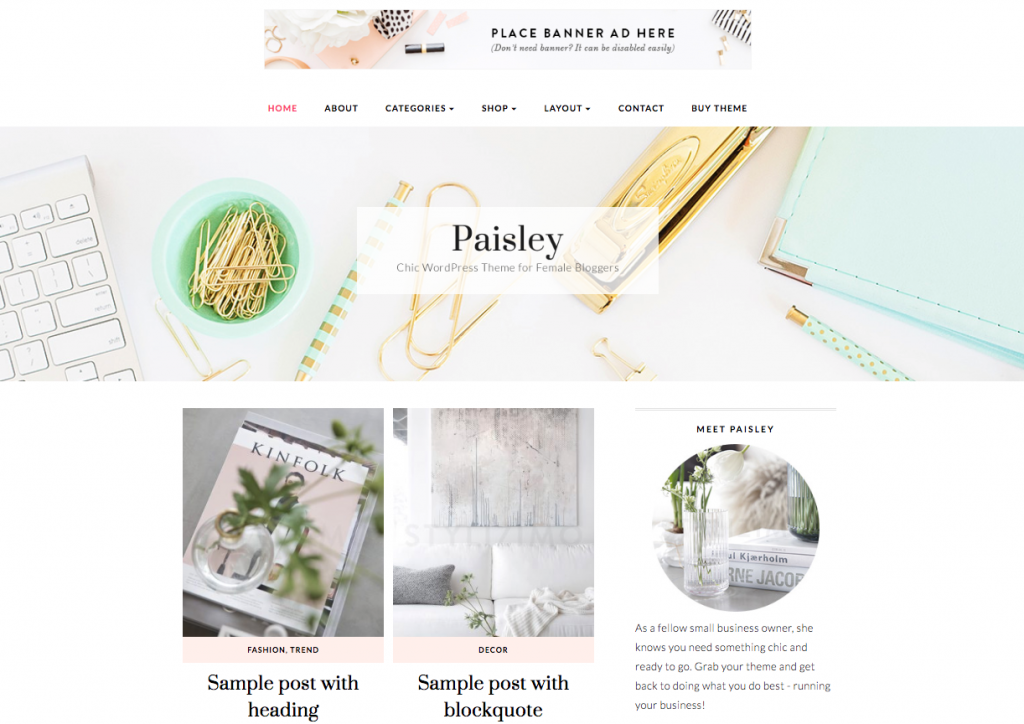 Features:
5 featured widgets at the bottom of the page
Navigation with a sticky menu that stays at the top of the page.
Build your online shop beautifully with the popular WooCommerce plugin
Pick from a convenient color wheel in the Customizer

45. Isabelle Theme – Make them blush with envy with this pretty Isabelle blog template to showcase your business. This feminine theme is a sweet and modern choice for lady bloggers and female influencers.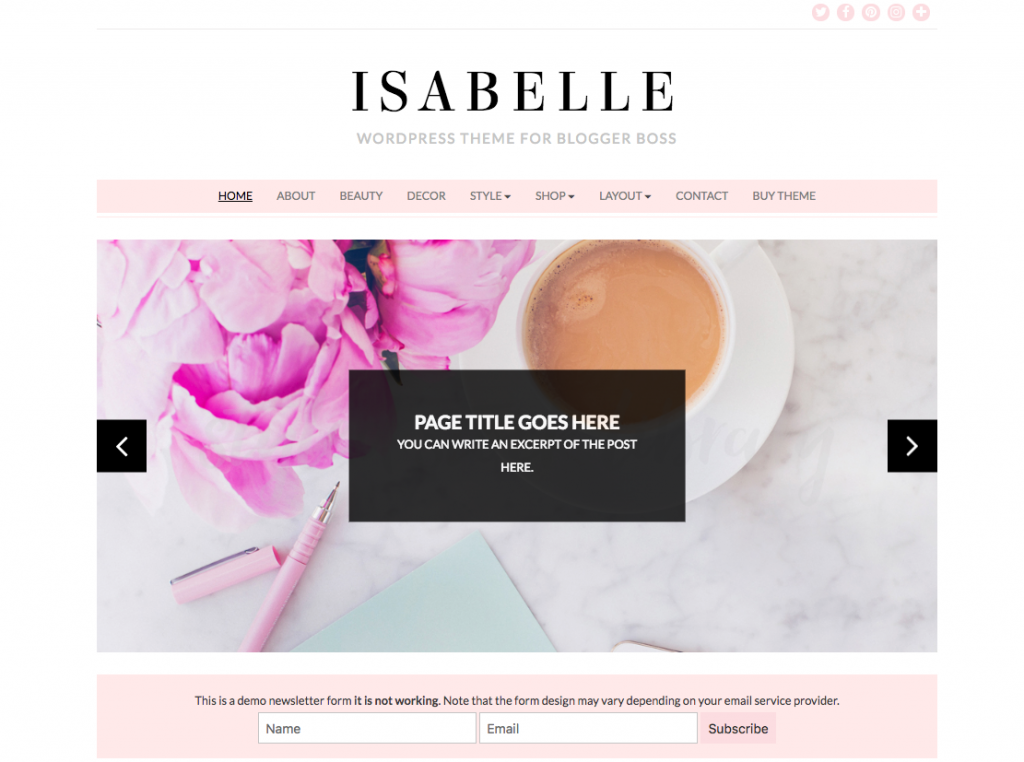 Features:
The slider can be set to full-width so it fills the screen from edge to edge
Comes with pre-stylings form for Mailchimp, ConvertKit
Display social media icons at the top of the page

46. Adelle Pro Theme – The soft pink confetti header and minimalist two-column layout makes the Adelle Pro WordPress Theme a perfect match for a beauty blog, influencer blog or party planner blog.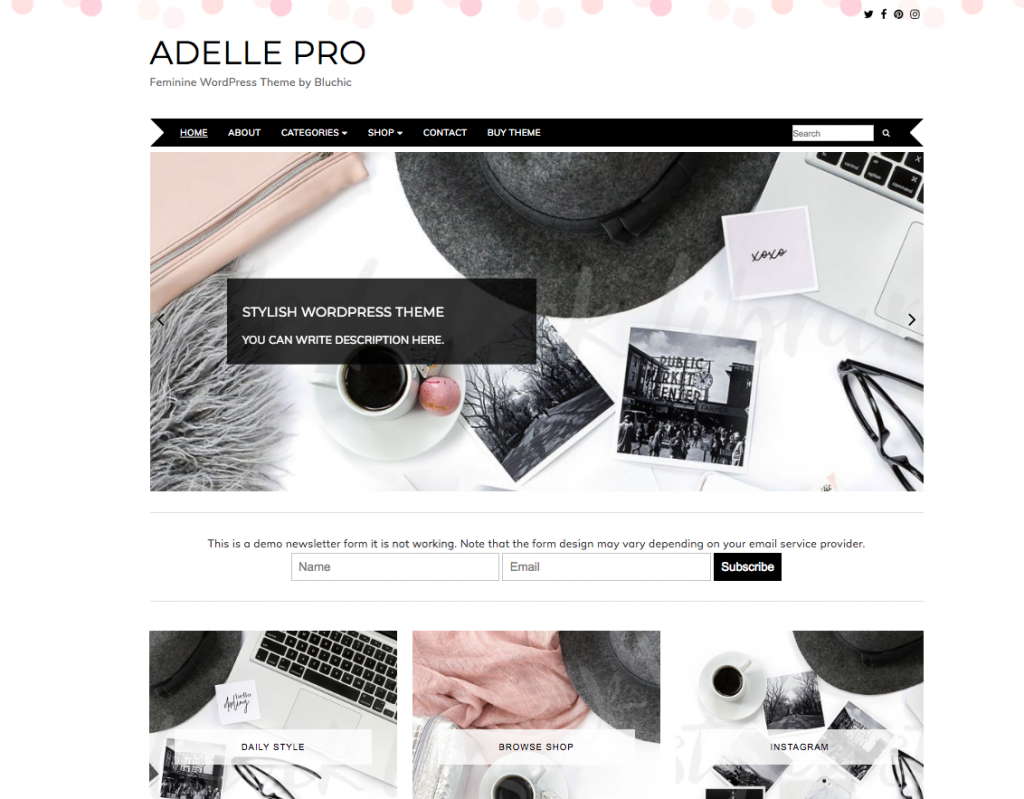 Features:
Responsive design
WooCommerce ready
Customize color easily

47. Glam Pro Theme – Whether you're starting a wedding blog, crafting blog, or affiliate marketing blog, the Glam Pro WordPress Theme will welcome all to your site in style.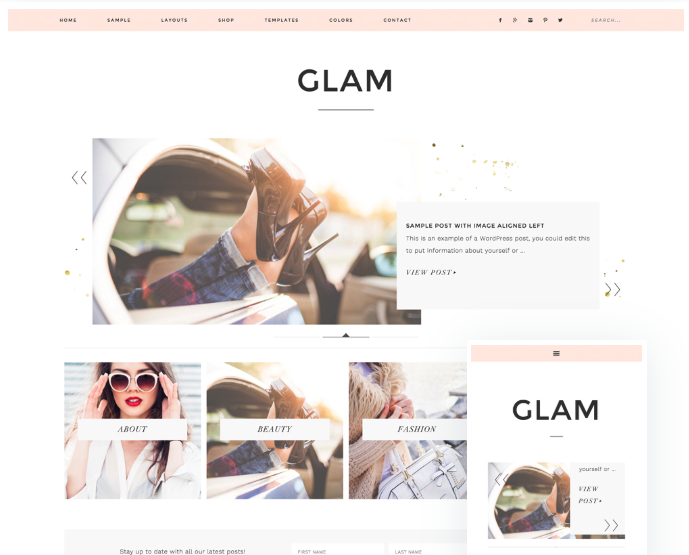 Features:
Comes with Genesis Framework.
Theme Customizer
Mobile responsive

48. Voile Theme – A contemporary, clean & feminine blog design. Voile is a responsive WordPress theme complimentary to any wedding, fashion, lifestyle, or travel blog.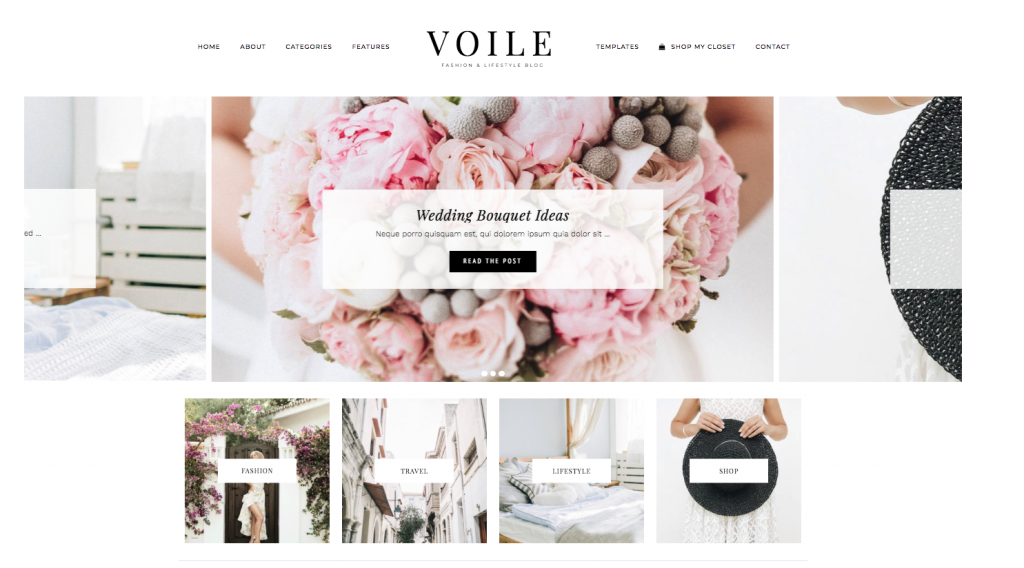 Features:
Crop your post featured images to landscape, square or portrait size
All navigation menus have an option to make theme sticky/fixed
Multiple widget areas for ads, call to action widgets or any other widgets
8 post layout options
49. Maggie Theme – This WordPress theme is awesome for service-based business owners, online shopkeepers or lifestyle bloggers. The Maggie Feminine WordPress theme is suited for creating sales funnels to products, freebies or other offers.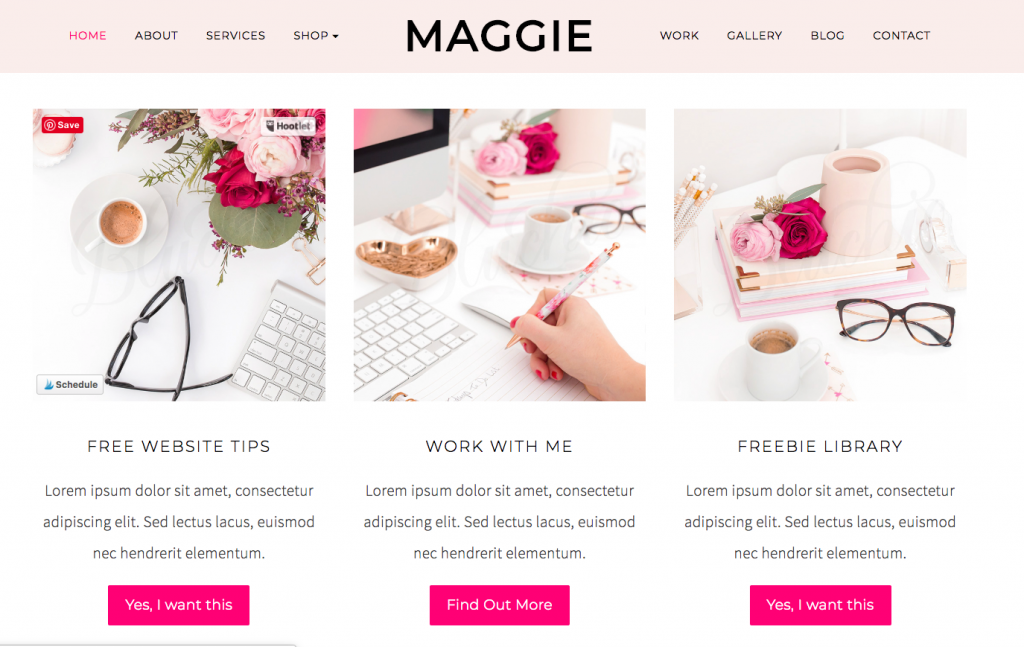 Features:
Hero image and above the fold CTA
Promo widgets to drive your site visitors into sales funnels
Sticky menu with logo in center
50. Octavia Theme – Showcase your portfolio, your clients, your shop, your services in lady like style with the Octavia theme for female bloggers and online visionaries.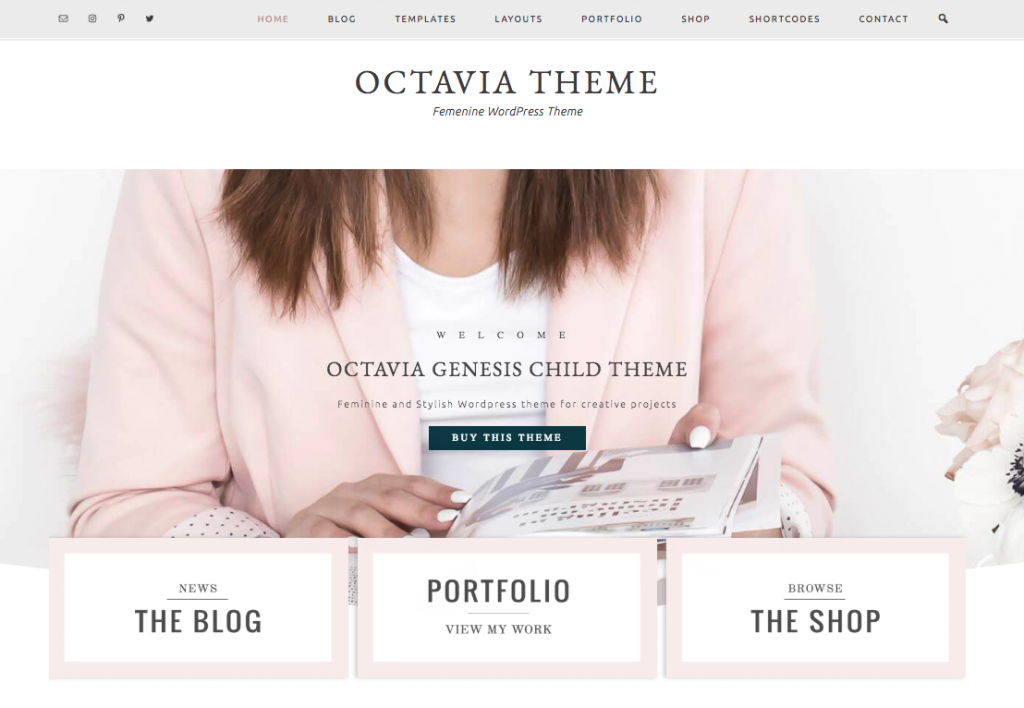 Features:
Left Sticky widget for your Subscription form.
(Optional) Top Full-Width Slider.
Widget area below post posts for subscription, call to action, or ads.
MailChimp, ConvertKit, Aweber, newsletter plugin compatible.
Why Feminine Blog Design Works
So long as you're in a niche that appeals to ladies, females, galpreneurs, mommies and mom bloggers, or girl bosses, pretty web design is an appealing option. Feminine blogs are popular because in addition to being beautiful to look at, a pretty website is inviting and approachable. Especially if you're coaching, crafting and connecting with a female audience.
Can't pick just one? Try this Mega bundle of 10 Feminine WordPress themes together for one low price.
If, after purchasing a theme, you'd rather outsource the actual website building, Fiverr is a terrific place to find freelancers and WordPress designers at reasonable rates.