Earlier this month on December 9th, Pantone announced the Pantone Color of the Year. Instead of one color, it was actually two colors. The 2021 Pantone Colors of the Year are Ultimate Gray PANTONE 17-5104 and Illuminating (Yellow) PANTONE 13-0647 .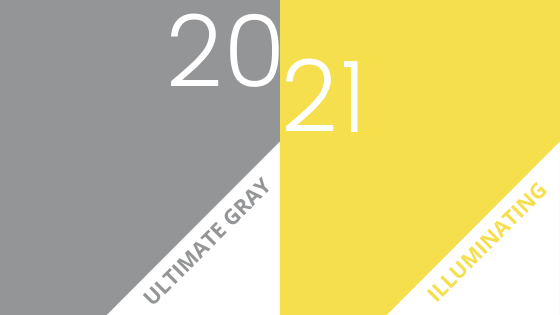 "A marriage of color conveying a message of strength and hopefulness that is both enduring and uplifting." – Pantone website
As 2021 looms near and we collectively look forward to saying goodbye to 2020, a year that was filled with unprecedented hardship and challenges, two colors likely seemed in order. perhaps Pantone sensed this was a good time to celebrate 2 colors instead of just 1.
Illuminating is a cheerful yellow hue that is symbolic of light at the end of the tunnel, a sunny summers day, or fresh and bold like a lemon tart. Illuminating yellow is a welcome color of hope and possibilities. Paired with Ultimate Gray, a color of steady calm, a neutral tone that anchors and acts as a foundation, it is clear to see how these colors were a perfect match.
Pantone Color of the Year 2021 Hex Codes and Color Values
For artists and creatives looking to incorporate these color trends into their designs, here are the color values and hex codes for Ultimate Gray and Illuminating. The hex code for Ultimate Gray is #939597, and the RGB value is 147 149 151. The hex code for Illuminating is #F5DF4D, and the RGB value is 245 223 77. You can even get Facebook and Instagram filters for these colors. Visit the Pantone website for more information or to get filters for Instagram and Facebook.
Ultimate Gray and Illuminating Home Decor
2020 was the year we all stayed home. And, 2021 looks to continue with working remotely and making our homes a sanctuary. Add these fun pop of color home accents to your kitchen, family room, or bedroom. Weave in the gray and yellow trend factor into your living spaces.
You can see more products reflective of this color palette in our full collection here.
PIN FOR LATER: