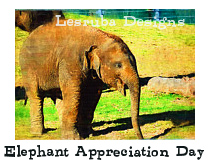 Elephants are to be appreciated, especially on Elephant appreciation day, which is September 22. This fun animal lover September holiday celebrates the largest land animal on the face of the earth.
Elephants are vegans – they are herbivores – which means they eat plants. Many vegans turn to the elephant as an proud example to vegan naysayers of a hearty creature who survives and thrives on a plant-based diet, just as they do. It just takes more plants to feed an elephant – they can consume up to 300 pounds of leafy greens and bark a day. Elephants can live up to 70 years.  Elephants have tusks, teeth and trunks. They also are said to have great memory. Everyone wants the mind of an elephant.
In warm weather, elephants don't need air conditioners or ceiling fans, they just flap their big ole ears back and forth to cool themselves off. Elephants are popular at the circus and the zoo. Many who go on African safari roam with these graceful beings.
One of the most beloved and famous elephant is Babar. Babar is french, mais oui? These books by Jean de Brunhoff are a literary favorite among kids and adults.
Elephant Posters and Prints