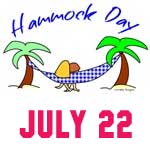 Hammock Day is one of those silly July holidays that falls on the 22nd of the month. What does one need to celebrate Hammock Day in style? A Hammock, of course.
Now hammocks are not a typical homeowner item. In fact many people daydream about having a hammock of their very own. A hammock in ones backyard or frontyard seems to be highly regarded by all. Ever go visit someone and when you see they have a hammock you suddenly care less about visiting with them and more about figuring out a way to get some hammock time.
That's because a hammock transports us to a place of instant tranquility, a place where birds sing and waves wash gently upon the shore and where you don't have to worry about how to pay your rent or think about all the things on your to-do list. Hammock time is vacation time. It is a vacation without the travel.
If you have access to a hammock, today would be a wonderful time to reconnect with that roped, netted structure and contemplate your navel for the day…or not. Contemplate nothing.
Watch this video to learn more about hammocks and how they're constructed –
Looking for a unique gift for someone for hammock day?
Read more about Hammock Day.