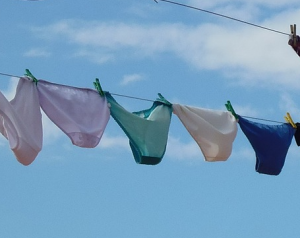 Today, August 5th, we celebrate Underwear Day. One of the many fun August holidays. Today we pull on and off our undies with a little more appreciation than we did yesterday or tomorrow. What sillier holiday excuse do you need to add some new panties or boxers to your current underwear drawer. Underwear can be sexy, playful, fun, functional, edible, protective, durable, fantastical, institutional, sporty and so much more.
There are many ways to refer to underwear – lingerie, undergarments, knickers, skivvies, unmentionables. Underwear makes people laugh. When you are nervous about giving a presentation or doing a monologue in the school play, one of the best tips anyone can give you is to picture the audience in their underwear. Kind of takes the edge off.
And who can forget Meg Ryan's character in "When Harry Met Sally" talking about her days of the week underpants and how it destroyed a relationship because her ex, Sheldon, was suspicious of where Sunday was. Why didn't she ever wear Sunday! And she explains that they don't make Sunday because of God.
No matter what day it is, unless you're going commando, the first thing you reach for to get dressed in the morning is your underwear! They make you feel good from the inside out. Celebrate the foundation of your wardrobe this fine day by evaluating your underwear drawer – toss out the old, bring in the new and wash what you've worn.