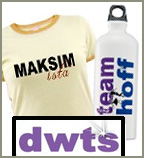 Tonite, September 20th begins Season 11 of Dancing with the Stars (or not so stars – as I like to call it). I'll be watching with my fellow DWTS friends over dinner and drinks because dwts is always better watched with friends!  The 2 hour live premiere will set off the dance competition showcasing the following pairs of pro-dancers and pseudo celebrities: Brandy & Maksim Chmerkovskiy, Audrina Patridge & Tony Dovolani, David Hasselhoff & Kym Johnson, Bristol Palin & Mark Ballas, Jennifer Grey & Derek Hough, Florence Henderson & Corky Ballas, Kurt Warner & Anna Trebunskaya, Kyle Massey & Lacey Schwimmer, Margaret Cho & Louis Van Amstel, Michael Bolton & Chelsie Hightower, Mike Sorrentino & Karina Smirnoff and Rick Fox & Cheryl Burke.
This season we're happy to launch  a collection of Dancing with the Stars t-shirts and fan gear to help you show your support for your favorite DWTS teams.
We make no apologies for being a bit one-sided here when it comes to having a Dancing with the Stars favorite or for devoting a majority of our DWTS swag to Maks "McHottie" Chmerkovskiy (wow I can actually spelled that now without looking it up!).  And if we have to explain why, well, uh……. you're in the wrong place. Besides, Maks taught me some dance moves earlier this summer at Dance with Me Soho where I, and about twenty other students, spent a few hours learning the basics of jive, rumba and salsa from the bad boy of the ballroom himself. The number to vote for Maks and Brandy is 1-800-868-3406. (no pressure!)
So if you love DWTS and can't wait to see Brandy, The Situation, Michael Bolton and Bristol Palin reach for the Mirror Ball Trophy then be sure to set your DVR or clear your calendar and gather your friends for tonight's DWTS premiere! And if you want to wear your team fave on your sleeve, be sure to check out our DWTS t shirts, clothing and other DWTS merchandise for all your favorite dancers.
Maks McHotie T shirt

Maksim-ista Hat
Dancing with The Stars Pillow
I want to dance with Derek baseball cap