The first thing that comes to mind when I hear orange crush, is the soda. It was an iconic drink that defined my summers at the beach and I will forever associate it with sun, surf and sand that all were complemented by a can of yummy orange soda. From handbags to rings to watches and makeup, these inspired color themed fashion accessories bring that feeling back by their bright orange pop of happiness!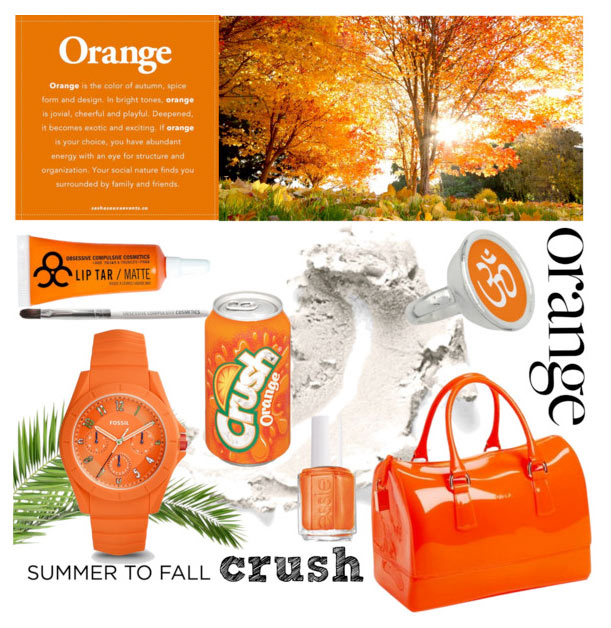 Shop Orange Crush Style:
| | |
| --- | --- |
| | Om Symbol Ring – Zen and yoga inspired ring features White ohm symbol on orange background. Perfect for the spiritually-minded. |
| | Fossil Poptastic Sport Multifunction Orange Silicone Watch Fs5217 Orange , this orange Fossil watch boasts sleek orange silicone, a complementary dial and Arabic numerals, a bright POP of color to any outfit. |
| | OBSESSIVE COMPULSIVE COSMETICS Matte Lip Tar – Beta by OCC – Orange liquid matte lipstick. We love that it's 100% vegan and it's gluten free too. |
| | Orange Soda – orange crush soda tastes great on ice, sitting on the beach. |
More Happy Orange Fashion Accessories:
Color: Jacinth

Flock Pointed Toe Stiletto Heel Ankle Boots
Plunging Neck Long Sleeve Hit Color Chiffon Maxi Dress — $25.99

Plunging Neck Long Sleeve Hit Color Chiffon Maxi Dress
Fingerprint atomic orange plastic frame.

Oakley Sunglasses Frogskins OO9013 901353 (55 mm) | UnitedShades
This post may contain affiliate links, see our disclosure policy for more info.