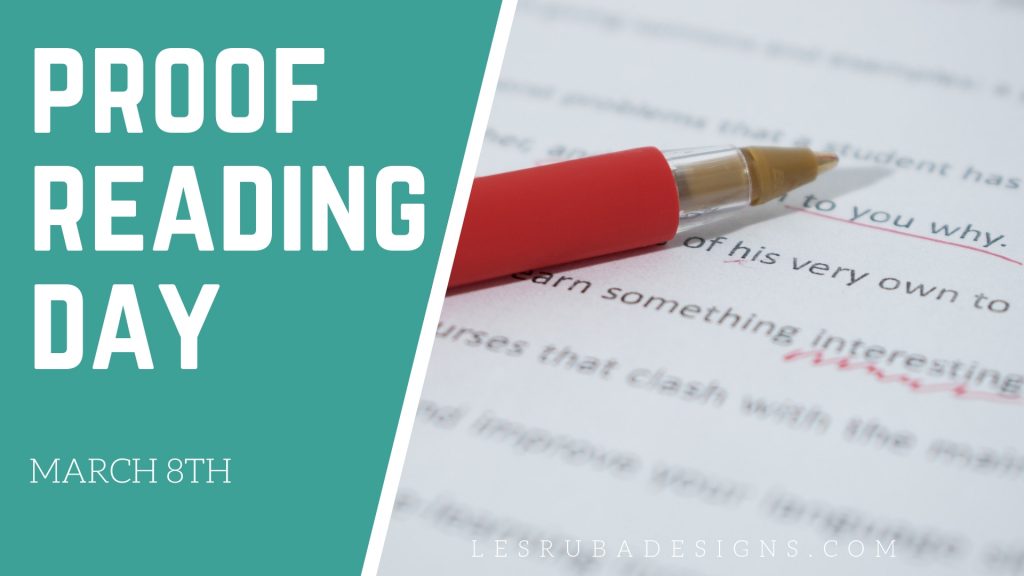 *This post contains affiliate links, which means that by clicking on a link and purchasing a product, I'll receive a small commission, at no additional cost to you. Please see my disclosure policy for details.
Proofreading Meaning
The dictionary defines the word Proofread as "to read (printers' proofs, copy, etc.) in order to detect and mark errors to be corrected."
Proofreading vs Editing
It's easy to lump all forms of editorial into one function, however there are distinct differences to consider. While most editors or copywriters may include proofreading as part of their service delivered, it doesn't work the other way around.
A proofreader focuses on the accuracy of the written word as opposed to changing or enhancing the written word. A proofreaders job is to correct misspelled words, adjust letter spacing, paragraph breaks, incorrect grammar and other errors. It is this day that we celebrate Proofreaders Day.
Proofreading Services
If you're looking for someone to proofread your manuscript, ebook, blog, press releases, tax document, term paper or other written product, you can hire a proofreader online fairly easily. For example, here are some top proofreading gigs on the popular freelancer platform, Fiverr.
I Will Professionally Proofread and Edit Your Document
I Will Manually Proofread And Edit Texts Or Books In English
I Will Do Book Editing Unlimited Word Count, Book Proofreading, Book Editor
I Will Proofread Your Novel Or Manuscript
I Will Proofread Your Thesis Dissertation
Proofreading Jobs
The Chicago Manual of Style is the bible of proofreading and many proofreading jobs require fluency with these proofreader's marks and guidelines. Ideal candidates need to have excellent grammar. Keep in mind there are many different genres of proofreading from recipe proofreading to academic proofreading to resume proofreading.
If you have proofreading skills and want to start making money online, you can set up an account and sell proofreading services on Fiverr too.
Proofreader Business Cards
Proofreaders love to spread the word, and of course edit it, so here are some business cards to help promote your business offline.