Pumpkin Spiced lattes and cappuccino's aren't the only thing flavored with pumpkin in autumn. In fact, pumpkin-spiced has become kind of a big trend well beyond drinks, beverages and muffins. It seems that once the weather shifts into cooler autumn temperatures, pumpkin flavored everything is available for consumption.
Each season has its own mood and its own mascots and these popular plants, characterized by their hard shell and inner seeds and pulp, are without a doubt the premier mascot of fall. We're pretty sure that the pumpkin never knew their pumpkin-tential would be this big! But the pumpkin will be a force of fall forever and therefore you can bet pumpkins will continue to inspire food, clothing, decor and more.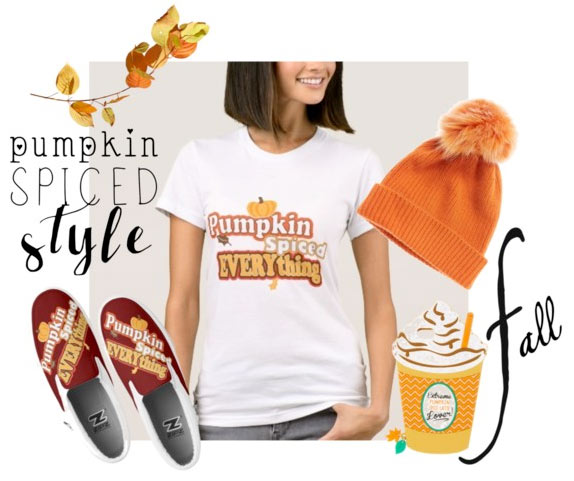 Flavor Yourself with Pumpkin Spiced Style
Dress for the season from head to toe with pumpkin spiced everything canvas shoes, t-shirts and more featuring the colors of autumn (brown, orange, and peach) along with leaves and a pumpkin. Wear these autumn items to your local coffee shop, for a day of pumpkin picking, for a haunted hayride, on a fall foliage photo shoot or to work.
This post may contain affiliate links. See our disclosure policy for more info.