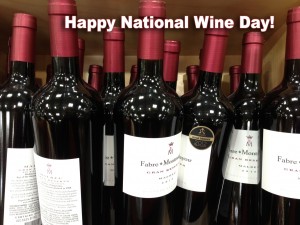 May 25th is National Wine Day. No better day than to give the wine drinker in your life a special bottle of their favorite vino.
Whether you enjoy pinot, cabernet, chardonnay, malbec, merlot or any of the many varieties of this fine, popular beverage, Wine Day May 25 is a day to uncork your passion for wine.
National Wine Day is also a terrific day to pay respect to the grape, from which all wine comes from. Fun activities for wine day include hosting a wine tasting party – remember the five s's of wine tasting are swirl, savor, sniff, see and sip. Then sip again.
You could also line up some favorite wine movies for the night, like Bottle Shock

and Sideways

.
Looking for some unique gift ideas for Wine day? Try these fine wine themed gifts.
Merlot Wine Wall Clock