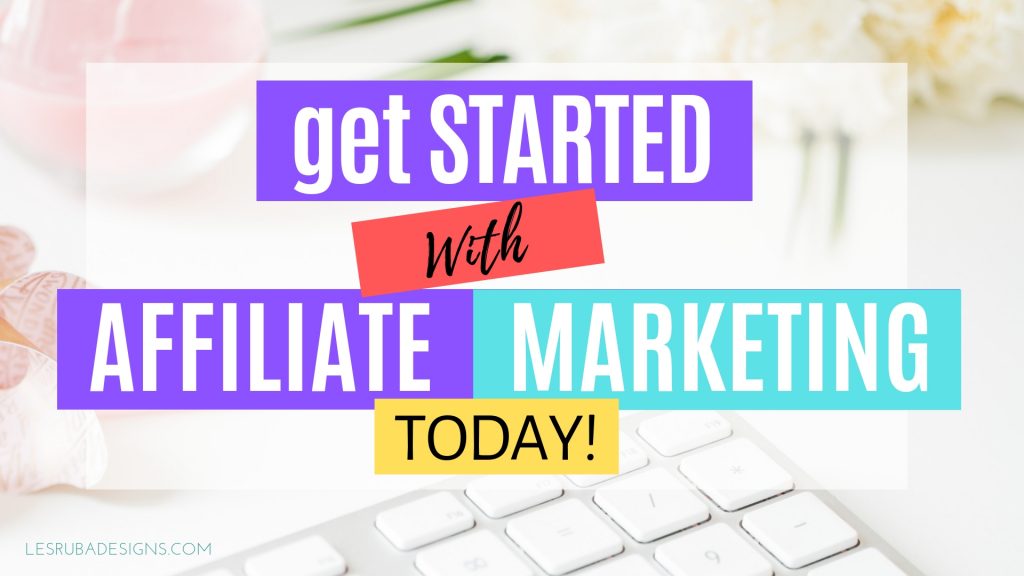 *This post contains affiliate links, which means that by clicking on a link and purchasing a product, I'll receive a small commission, at no additional cost to you. Please see my disclosure policy for details.
Interested in monetizing your blog but not sure how? In this post we are going to walk you through the basic steps of how to start affiliate marketing for beginners.
What is Affiliate Marketing?
Affiliate Marketing is making money by referring customers or clients to products and services you use, support, like or recommend. Simply put, it's like if my dentist gave me $5 for every patient I referred. Each one of my referrals is the equivalent of an affiliate link (a lead to a potential sale). Affiliate links are embedded with a unique affiliate ID which tells a business that you referred that sale. If the customer buys something within the timeframe the cookie is active – KaCHiNG, you make a commission.
How to Start Affiliate Marketing
Ideally, you want to start affiliate marketing by promoting products you believe in or use that help your target audience. There are two primary places to find affiliate programs you can join: Affiliate Networks or Independent Programs.
Affiliate Networks
Affiliate Networks are networks that manage a vast variety of merchant programs under one roof. You create an account and provide information about the websites you have where you'll be promoting merchant products. You can then browse and find relevant affiliate programs to join.
Keep in mind that each program has different requirements by which they accept affiliates and approval or decline is at each merchants' discretion. Any commissions you receive from programs in that network will be issued to you by the Affiliate Network and not the individual merchant.
---
---
---
---
Independent Affiliate Programs
Several merchants manage their own affiliate program, which means that you can apply to be an affiliate directly on that merchant's website.
How do Affiliate Marketing Programs Work?
Once you're accepted into an affiliate program, you will have access to their affiliate tools. These are commonly custom banners, text links, datafeeds, and others. You can now start using your affiliate links to promote the merchant's products or services. It's important to read each merchant's terms and conditions and PPC Keyword Rules about what they permit. If you have any questions, most affiliate managers are happy to help. We also have an entire blog post dedicated to easy to join best affiliate marketing programs for beginners.
What to look for in an Affiliate Program
Here are a few things to think about as you begin applying to affiliate programs:
Commission – what % of the sale will you receive?
Cookie duration – how long is the cookie? If it's 2 days, you're going to have to convert that lead into a sale in record time.
Resources – does the merchant provide the banners you need, the links you want, custom deep linking options, chrome extensions to make grabbing code faster, do they have an api, regular newsletters, incentives, and other things that could be helpful for you?
Products – does the merchant have products that align with your content, can you get excited about promoting their offerings?
Dedicated affiliate manger or affiliate team – is there someone you can reach out to for assistance or questions?
What does Cookie duration mean?
Each merchant sets a cookie variable for how long your affiliate link will track on the merchant site with each click. So if a merchant has a 30-day cookie, if someone clicks through to them with your affiliate link today, you will receive commission on any purchases they make in the next 30 days. The topic of cookies can get much more complex. Keep in mind, the cookie can be reset by another affiliate if that customer clears their cache at some point. Also, if the same customer clicks on links from multiple affiliates, the first affiliate's cookie is the one that sticks.
How to tell if a site has an Affiliate Program
A good rule of thumb is to go to the footer of any website and look for the word "Affiliates" "Affiliate Program" or "Partner Program" – you can quickly see if they have one. Once you click you'll see more information about applying and if they are part of one of the large networks, or independently run.
How can I Learn More about Affiliate Marketing?
Now that you know how to start affiliate marketing, you're going to want to learn even more. One of the best places to do that, if you can, is to attend an Affiliate Summit conference.
Affiliate Summit is the best conference for any affiliate marketer. Affiliate Summit has been around for over 15 years and I can happily say I have attended, learned, laughed and networked my way through many summits both east and west!
In January, Affiliate Summit West is held in Las Vegas. And in August, Affiliate Summit East will be held in New York City.
Recently, Affiliate Summit has even gone global. It's a great opportunity to meet other affiliates, talk with some of the big affiliate networks like Shareasale and AWIN, introduce yourself to affiliate managers, exchange ideas, get ideas, be inspired and make life-long friends.